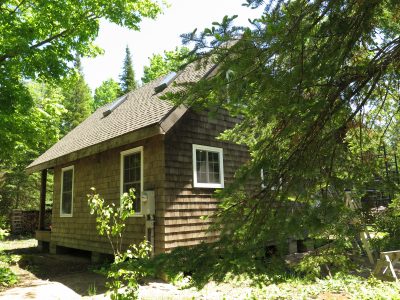 UPDATED 20Jul2018: Earlier this week I was emailing with different two women who just signed up for the next session of my online tiny house building course. They're part of 12 people in the current class who are building in different places around North America. The internet lets me give them hands-on help almost as well as if I was with these builders. Neither of the ladies I spoke with has ever built anything big before, but that's okay. Most people in the course are new to building.
The tiny house movement is growing because people want homes that are more affordable and easier to maintain, either as a full-time residence or as a cabin by the lake. What's more difficult is building a tiny place that feels authentic and high quality, with lots of solid wood, classic lines, and details that make it comfortable and cozy year-round. That's what we set out to do at our place here on Manitoulin Island, Canada, and people all over the world are following our example.
My course started when our oldest son decided he wanted to build a cabin when he was 18 years old. That was 10 years ago, and the original idea morphed into what you see here. The tiny house in these photos is where he lives with his wife and 1 year-old daughter.
I figure that an open porch is a must-have feature for any cabin, and the porch in my design is a simple extension of the roof. Rough-cut posts and beams form the structure that supports the open roof simply, with no hidden places for critters to crawl in and hide. We joined the timbers with a hidden system of metal fasteners that look just like traditional joinery, but are easier to build with.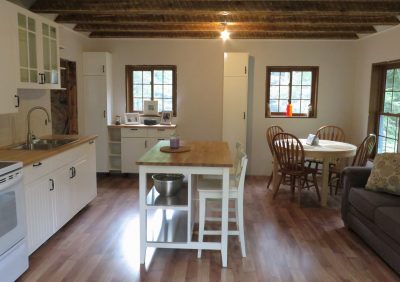 The photo coming up is the main living area of the tiny house as you walk inside. There's a loft upstairs for sleeping, but most living happens down here. The ceiling includes exposed, rough-cut beams (more on this in a minute).
Underneath the walls there's a 2×6 frame with 2×6 rafters that remain open and exposed to view inside. So many buildings these days are framed with trusses, but this complicates attic spaces a lot and it hides potential beauty. Rafters are better in this application because they create a completely open loft area, as you'll see.
The foundation in our design is stone piers we built using limestone we quarried. This is a completed pier here. Mortar is best made with 50% masonry cement and 50% Portland cement, added to sand at a ratio of one part cement to three parts sand. This is a good all-around mix for traditional stonework. Sitting on top of the pier in this shot is the 8×12 perimeter beam with a half-lap joint in the corner. There are eight piers like this in our design. The nice thing about a perimeter beam is that it leaves easy access to the underside of the cabin.
One of the most important things for the look and feel of a cabin is what the roof looks like from the underside indoors. These are the roof boards as visible between the rafters. Insulation exists on top of these 2×8 roof boards, with sheet sheathing on top of the insulation and shingles on top of that. Some people wonder about using something so thick for the visible roof sheathing. The thing is 2×8 construction-grade lumber (which is what this stuff is) is less expensive than 3/4″-thick pine. Also, the thick wood allows the insulation and sheet sheathing to be anchored anywhere that's necessary, not just where rafters exist.
Skylights or roof windows are an absolutely vital part of making a cabin attic loft that's comfortable in warm weather. Without the ability to ventilate the loft space from above, it'll get too hot – regardless of how much insulation exists in the roof. Besides, roof windows bring in so much gorgeous light. The view in the photo here is out of the roof windows on the top of the cabin. There are four skylights in the roof, and when they're open they allow complete ventilation of the whole cabin. Air just wafts upwards from the main floor.
The Family Handyman is one of the largest providers of how-to information in the world, and a couple of years ago they discovered my tiny house video building course. They liked it so much they asked me to create an enhanced version of the course to offer online via their DIY University. Click here to learn more.
Sign up and you get building plans, videos and instructions, as well as a chance to ask me questions directly throughout the course time and beyond. There's still a few days before we get going with the course material next week. I treat every learner as a friend and everyone gets personal attention from me either online or by phone.
Sign up as one of my subscribers you get 10% off the course fees, too. Just use the discount code STEVEMAXWELL10 when you register.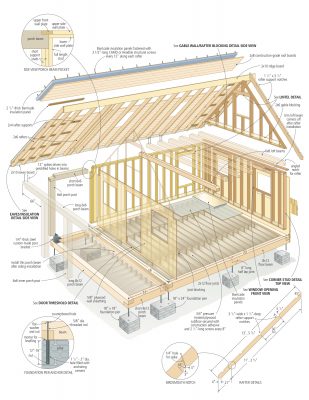 Click here to learn more about the course and to join my class.