Build a Tiny Home, Enjoy a Big Life
Have you ever wanted your own small, affordable tiny home? Perhaps you even want to build one yourself. I first felt this urge when I was 11 years old, back in 1974. Most of my adult life has been spent building things in pursuit of that boyhood vision: cabins, a country home, outbuildings, and  a rural lifestyle of self reliance with my family of seven. I know the tiny cabin home dream is something a lot of people share because I hear from them all the time. Perhaps you're one of them. There's a movement out there, a movement where people are eager to learn how to build tiny places for themselves. Click the video to the left and see what I mean. Here's what the tiny home dream looks like:
Rays of early morning sunlight peek gently through double-hung windows, easing you into wakefulness. Getting up from your bed in the loft, you look over the railing and see everything you need for a simple, happy life: a pine table for meals; a writing desk; a collection of favorite books on wall shelves just below the ceiling. There's a wood box filled with logs, split and ready for the stove. Built-in shelves are stocked with the kind of comfortable clothes that most people only get to wear on weekends. And as you gather your thoughts for the day, you find something else here, too. It's the ease of knowing that your life isn't caught up in the treadmill of vacuuming acres of broadloom while serving a monster mortgage. Your life is simple, it's good, it's yours and it's paid for. This is the essence of the tiny cabin home dream. Are you the kind of person who longs for it?
My tiny cabin experiences spring from the good fortune of being born into a family that owned a genuine log cabin. It was built by an eccentric bachelor ancestor of mine in 1923. Kenneth Malcolm Evans – Uncle Ken as he's still called today. That's him on the right, standing in front of his cabin. Uncle Ken lived most of his adult life on the shores of a great freshwater sea called Georgian Bay, in Canada – a place that still holds my heart. I grew hp in the city, but boyhood experiences at Uncle Ken's cabin led me to where I've lived for more than half my life now, on a very rural island called Manitoulin. I'm happy to say that my kids have come to love the country life, too. One of them is even living his own cabin lifestyle now. That's not only pleasing to me, but it gets me thinking.
In a continent as large as North America, surely there's room for many more tiny cabin home people to live the life they really long for.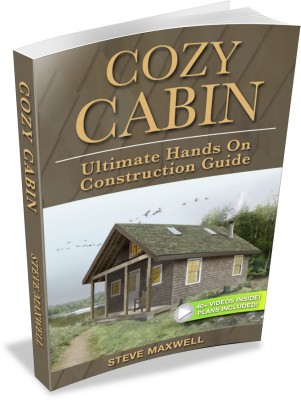 If this is you, I can help. Building a tiny home yourself is a big part of the satisfaction (and the financial savings), and that's why I created the plans and building course that I call Cozy Cabin. It's meant for both beginners and experienced builders. First, it's got detailed plans for building a 16′ x 25′ cabin. If you know what you're doing, these are all you need to build with. For those less experienced, there are clear, detailed instructions, excellent photos and 45 videos that lead you step-by-step through the process. If you're never built before, these videos are a real help.
Courses like Cozy Cabin teach in a way that books never can match. I'm not aware of any other tiny home package that's as detailed and easy to follow as this one.
Get your own copy of Cozy Cabin risk free right here. If you're not completely impressed, I'll refund your money. I've never had to do that yet, but the offer always stands.