MIG welders are the easiest of all welding equipment to use, and there are plenty of great DIY-grade machines on the market. See for yourself in the 15 minute video here. It's one of many video tutorials that make up my online course MIG WELDING SKILLS FOR THE HOME WORKSHOP. Satisfaction ensured and money-back guarantee.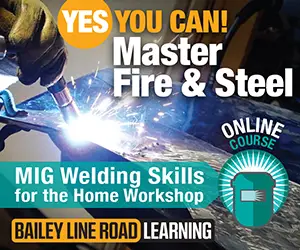 Here's what they're saying . . . 
"I really enjoyed Steve's MIG welding course.  The pace was just right and the level of detail was good as well. I hope there'll be similar classes in the future. Maybe something on advanced welding? Overall, very pleased and appreciate your time and quick responses to my questions." -KP Salisbury, NC
"I truly enjoyed being part of your MIG WELDING FOR BEGINNERS course. The information you provide via written and videos material IS very well put together and easy to follow. I truly was a beginner,  never having even owned equipment nor additional tools. I will keep my eye out for any additional courses you have on these topics." – RM Chicago, IL
Click below to see why MIG welding is the favourite of home workshoppers.
Click above for a detailed video tour of how MIG welders work, including actual footage of welding happening as seen through the welding mask.
I hope you found this video helpful. Please consider helping to cover the cost of producing and publishing this content. Click the "buy me a coffee" button below to make a contribution. It's fast, safe, easy and much appreciated by me. Thanks to everyone who contributes regularly.