Resilient roofing systems have better-than-average ability to withstand major weather events, and in the case of green roofs (one type of resilient roof) they can even heal themselves if damage does happen. Resilient roofs can be used on commercial buildings and residential homes, and roof hatches play a role in the design and construction of many resilient roofs, as you'll see. 
Goals of Resilient Roofing Systems   
Before discussing specific systems, it's essential to understand the goals of the resilient roof approach: 
Sustainable design  

Better temperature control 

Resistance to damaging natural forces 

Maintaining weather resistance after damage 

Easier repair with the use of everyday tools and materials 

Adaptability to changing weather conditions  
  What does this mean in the real world? There are two specific benefits delivered by resilient roofs:
Enhanced safety and reliability: Resilient roofs withstand severe natural disasters better than most, which keeps your daily life unbothered, whether at school, work or home. Commercial facilities such as hospitals, schools, banks, prisons, and government offices experience no shutdown with resilient roofs, keeping their essential functions undisturbed. 
 Energy and natural light benefits: Depending on the design, these roofs can conserve energy, sometimes by adding thermal mass to the structure to even out interior changes in temperature over the course of a day.  
The Role of Roof Hatches in Resilient Roofs  
Access to the roof can be a part of any resilient roofing, and roof hatches are one of the ways this can happen. Roof hatches are products that provide quick and safe access for an authorized person to gain easier access for roof repair or maintenance on commercial or residential buildings. Here's a list of resilient roofing systems and how they work:
Resilient Roofing System #1: Green Roofs
  
A green roof is a resilient roofing system that includes growing plants. Think of it like a lawn on top of your building. 
Green roofs are not easy to create and not easy to maintain, but they do work well, last long and look great. The Bilco L-50TB Thermally Broken Service Stair Access Roof Hatch offers easier roof access for green roof situations.   
Here's a list of remarkable buildings around the world that apply green roofs with an aesthetic twist: 
 
Meera Sky Garden House in Singapore by Guz Wilkinson: on Sentosa: This is a four-story private residence constructed with a beautiful roof garden on each of the four floors.
Olympic Sculpture Park in Seattle, USA, by Weiss/Manfredi Architecture Firm: This establishment has a z-shaped landform connecting three separate sites. This building provides a great atmosphere as it consists of greens and forests.
California Academy of Sciences in San Francisco, USA, by Renzo Piano: A building truly fit for science as it possesses 1.7 million types of native plants with innovative solar panels and weather stations.
Chongqing Taoyuanju Community Center in Chongqing, China, by Vector Architects: This community center in China consists of three separate structures that include essential functions such as cultural events, public health activities, and sports events. It is an innovative building that applies topography in its final design.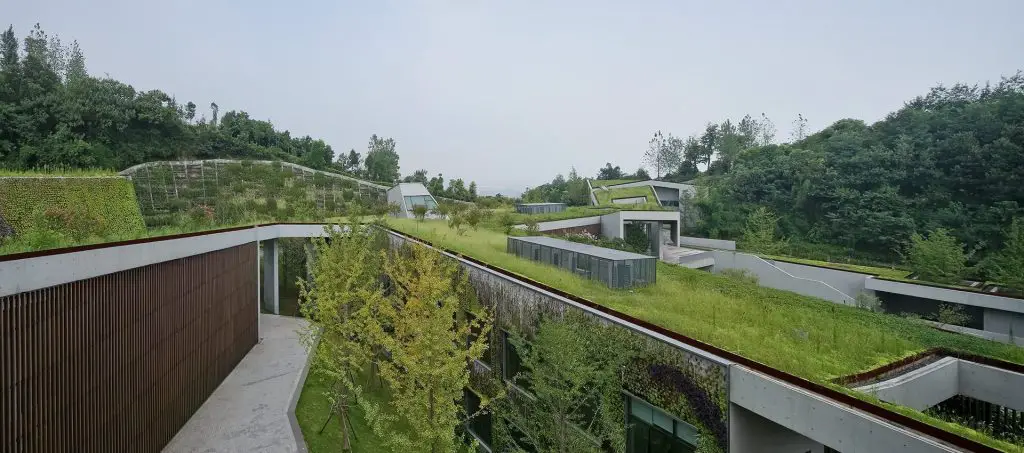 Autofamily House in Poland by Robert Konieczny of KWK Promes Architecture Firm: An excellent house for a known art director in Poland. The Autofamily House's entire structure possesses a beautifully placed green roof that blends seamlessly with the whole house.
Resilient Roofing System #2: UV-Resistant Roofs 
Sunlight is the leading cause of damage to roofs. It can decrease the roof's resistance to various elements such as water, abrasion, physical degradation, and more. A resilient roof system can endure continuous UV exposure better than most, preventing UV degradation as it keeps the roof watertight to make it last longer. 
 
An excellent addition to UV-resistant roofs is solar panels that provide protection and energy simultaneously. A solar panel can shield your commercial building from UV rays as it absorbs and stores energy for later use. These panels are perfect for unannounced power interruptions so that the commercial building can continue functioning. Roof hatches with a built-in thermal break are an important part of overall energy design.  
Resilient Roofing System #3: Wind-Resistant Roofs  
These include design features that make the roof deck better able to resist damage from hurricanes and typhoons. Roof hatches that include high wind resistance are essential for this approach, so look for wind damage resistance certifications from organizations such as the Miami-Dade Building Code Compliance Office and the Florida Building Commission. 
Here are some notable hurricanes and storms in the United States that provided destructive aftermath with their heavy winds: 
Hurricane Katrina in 2005 

Hurricane Harvey and Maria in 2017 

Hurricane Sandy in 2012 
Resilient Roofing System #4: Hail Resistance 
Hailstorms can be a problem for commercial or residential roofs. Hail can create dents or tears in the roof, which can become places where total roof failure begins during a storm. Rubber shingles, like those shown below, are one example of an exceptionally tough, hail-proof roof.
Resilient Roofing System #5: Water Control
Gutters are an indispensable component of a water-resistant roofing system. They serve as the primary channels for rainwater, directing it away from the roof surface and the building structure. A well-designed and properly maintained gutter system ensures that water flows off the roof efficiently, preventing accumulation that could lead to leaks, mold growth, or even structural damage over time.
Final Thoughts  
Resilient roofing systems, including roof hatches and design adaptations for your area, can make a big difference in how your building handles the next major weather event. Take the time to understand and apply these upgrades and your building may fare much better than others with conventional roofs.