2 Breakthrough Options for Trouble-Free Finished Floors Over Concrete
Concrete floors have always been part of modern home building, but changes in subfloor products and underlay now offer faster, drier, more comfortable and more reliable starting surfaces for finished flooring over concrete. There are two new options that I know work well:
Hardwood Faster Than Click Flooring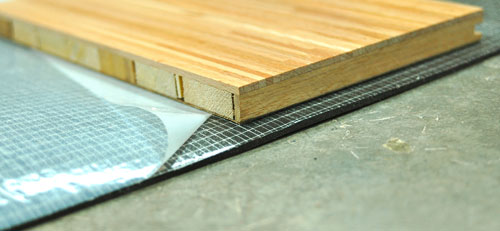 A ten-year-old European product that's new to Canada makes both traditional hardwood and engineered flooring easier to install over concrete (or any other surface) because it eliminates the need for nails, while also ensuring a permanently tight, gap-free installation that rivals click floors for speed and simplicity.
Elastilon (877.526.9663) is an adhesive-backed foam underlay that secures non-click, tongue and groove wood flooring and engineered flooring that would otherwise require nails or glue. Cut strips to length off the 100 cm-wide roll, then lay them edge-to-edge and perpendicular to the direction of the finished floor boards to be installed. Next, interlock several rows of flooring over top and along one wall, then peel the backing from the top of the Elastilon, sliding the backing out from underneath the flooring. The exposed sticky surface of the Elastilon holds the flooring secure.
Hardwood installation over Elastilon is about twice as fast as nail-anchored methods, and it eliminates the need for flooring to acclimatize before installation. The product also provides cushioning, increased warmth and reduced airborne and impact sound transmission between floor levels.
So, how well does Elastilon stick? That's the big question. In tests I've completed, the adhesive is strong enough to make it difficult to remove flooring afterward 30 minutes of contact. The 70-year manufacturers warranty is probably a good indication that it'll keep on sticking, too.
Inorganic Subfloors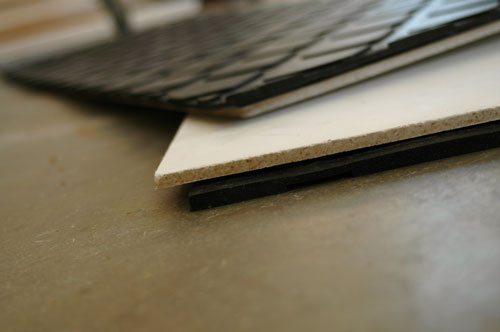 Tyroc (519.622.0943) is the first and most recent example of inorganic subfloor panels, but it probably won't be the last. And with our national affection for finished basements, it's not surprising that this product is also Canadian. It's a 1/2-inch-thick, laminated sheet material that includes a grooved, rubbery bottom layer made of recycled tires and plastic bottles bonded to a top layer of compressed magnesium oxide – an inert, non-toxic, plentiful mineral that's impervious to water. The high percentage of recycled content counts towards LEEDS scores, and the inorganic makeup greatly reduces the risk of mold and mildew growth in the event of water leaks, condensation and vapour migration – all common hazards with many concrete floors. Wood-free composition also means each 16 x 48-inch panel is dimensionally stable and doesn't need to acclimatize before installation.
I know from experience that Tyroc cuts easily with any kind of circular saw, jigsaw or hole saw, and it goes down underneath ceramic tiles, laminates, engineered and hardwood click and just about any other type of flooring. Electric infloor heating mats can be used on top. Physical flexibility is another advantage because it eliminates the need to fool around with shims to get the subfloor to sit wobble-free on less-than-flat concrete. As good as the product us, there are a few technical issues you need to be aware of.
Although the exposed, shiplapped magnesium oxide edges are fairly strong, I know from experience that they can chip and break with rough handling before installation. Once Tyroc goes down with construction adhesive applied along shiplapped edges, however, everything's fully supported and pretty tough. That's why the product carries a 15 year commercial warranty. The one main limitation with Tyroc is that it can't be installed over radiant infloor heating systems.
Concrete may be hard to walk on, but treat it right and it makes a great surface for just about any kind of finished floor you've got in mind.