When moving to a new home, some of the most important and delicate things to pack are appliances and furniture. These are important possessions, so it's essential to ensure they stay in good condition as you settle into your new home. Unfortunately, minor carelessness or forgetfulness can significantly damage your stuff.
All this is why it's best to understand how to pack for safe moving. This is one main reason why people hire movers. It's one way of preventing injuries and property damage, saving you from further stress and worries.  Consider the following tips in packing your appliances and furniture for a smooth move.     
1. Get Appliances And Furniture Insured  
Moving entails many risk, and unanticipated incidents may happen, causing damage to your appliances or furniture. This is why it's wise to prepare for such unfortunate possibilities, especially since the risks for damages to your items are not entirely zero, even in the hands of professional movers. Compared to doing it yourself (DIY), hiring professional movers can lessen the risk of damage during the packing and moving of your belongings. Moreover, getting your appliances and furniture insured can help solve the problem in case of an accident. 
Consider all valuation coverage and insurance options included in your moving service package. Protecting furniture when moving begins with this initial step. If your items are damaged or lost, your moving company's valuation coverage determines how much liability they will accept on your behalf.  Better discover this now rather than later, when you need the coverage.
2. Use The Right Packing Supplies  
One of the most common mistakes homeowners make when moving is packing their valuables without protective layers of bubble wrap or blankets. Why? This idea is often caused by thinking that the distance from their old home to the new one is close. However, the appliances or furniture may get scratched or damaged regardless of distance. Remember, it's better to be safe than sorry. It's crucial to pack everything properly.  
The key is to use essential moving supplies. Depending on the nature of your item, this should indicate the right packing material, such as cardboard, bubble wrap, blanket, cushions, stretch wraps, plastic bags, styrofoam, and so on. These packing items are effective in adding layers of protection to your belongings.   
It's not necessary to spend a lot of money on moving supplies. Some of these materials are free (cardboard boxes from the grocery store) only cost a fraction of your moving budget. Moreover, it's best not to be stingy with them since supplies will help protect your belongings during the move.  Another thing to consider using is their original boxes if you still have them. This can help as the original packaging of your appliances have the perfect protective placements. Thus, you don't have to worry about the appliances inside the moving truck.   
3. Pack Appliances According To The Manual  
Another essential tip is to rely on your home appliances or furniture's instruction manuals if you still have them. Manuals usually contain instructions and guidelines on properly moving these bulky items. For instance, did you know that you should let a fridge, freezer or window air condition sit upright and undisturbed for at least two hours after transport, to allow oil in the condenser to settle back down to where it should be.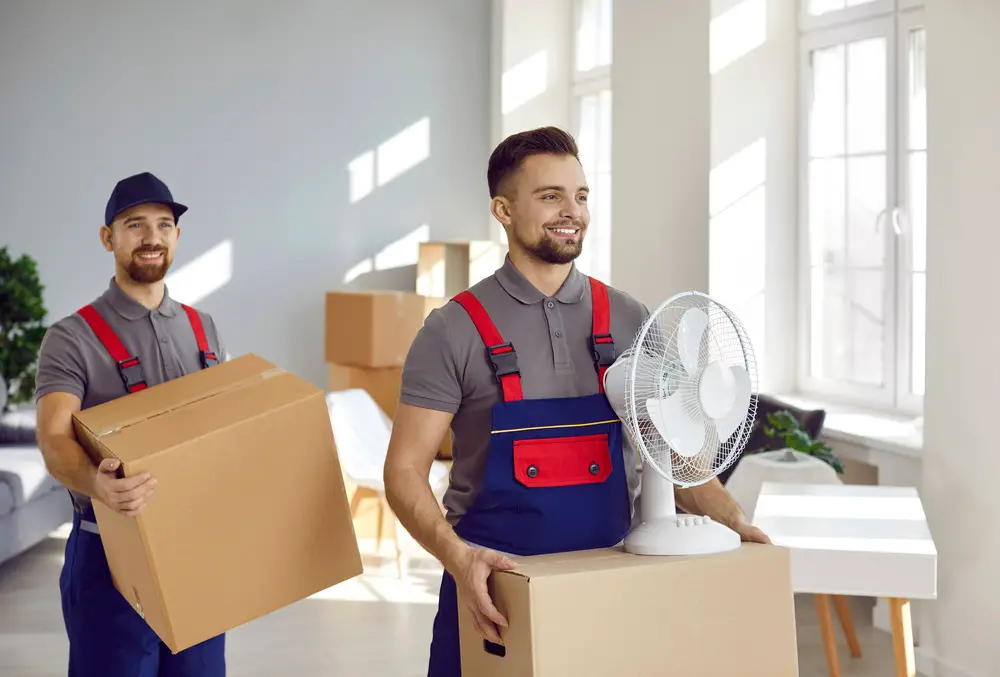 If you can't find the manuals, you can still get a copy online. It's easy to head over to the internet and download electronic manuals.   
4. Disassemble Parts If Necessary  
Before packing small kitchen appliances in boxes, check for loose or detachable parts. It's best to remove these because loose components can shift inside or around the appliance. Chances are these parts are vital components, and they could break easily if they're not disassembled appropriately.   
Assess the products you need to move and check which parts can be taken off. When doing this step, remember which part goes where, as you might be unable to assemble them back later. It's advisable to record this step by taking photos or videos for later. You can refer to the product's manual when disassembling small and technical parts. Likewise, use the right tools and avoid forcing parts that can't be removed.       
5. Consider Using Advanced Moving Equipment  
If you're hiring professional movers, they can give you access to advanced moving equipment. You may agree to use them to make your move more convenient and seamless. These are primarily applicable when moving dangerous and heavy equipment. For instance, an appliance dolly can come in handy if you're handling big items. While some moving companies, like Suddath movers Orlando, allow their customers to use such equipment for free, some might charge an additional fee. Ask your hired mover first.        
Conclusion  
Your home usually comes with valuable possessions that you can't afford to get damaged or broken. Choosing the best moving company, getting your stuff insured, and using the right packing boxes will ensure that they arrive at your new home in perfect condition.