Get Your OFF-GRID PREPPER POWER + BONUS Course Here
If you've bought the $49 OFF-GRID SUPER STACK collection, you've come to the right place! Click here to download your copy of the OFF-GRID PREPPER POWER. The 100% discount code for your download is: offgridpower
But before you click to download the course, check out the bonus course below that all Super Stackers are entitled to . . . 
+++++++++++++++
BONUS VIDEO COURSE FOR OFF-GRID SUPER STACKers ONLY:
FEED YOURSELF FOR A YEAR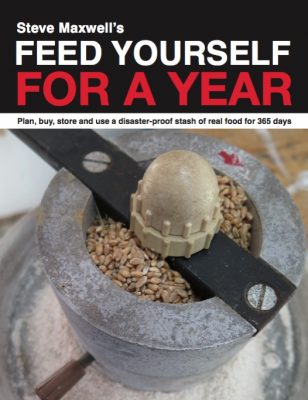 While you're here, check out another course that's included for you as a Super Stack participant. It's an online training tool called FEED YOURSELF FOR A YEAR: Plan, buy, store and use a disaster-proof stash of real food for 365 days. Much better than store-bought emergency rations, what you'll learn about here is the real world of food preparedness.
This is my newest course and it's the most complete and detailed program of its kind for preparing your own household emergency food supply. You'll learn to store the right kind of foods properly, plus how to grow a survival garden, raise beef, smoke meat, dry food and make preserves under emergency conditions.
When shops in your area run out of food because of an emergency, you'll be glad you learned the things in this course. Click the course cover image above or the link here to go to the course. Normally I sell this course for $39, but it's included for you as a Super Stack member.
+++++++++++++++++
ANOTHER SUPER STACKer BONUS, TOO!
Read a Real-Life, 30-Year Homestead Story
In 1985 I was a 22 year old city kid standing in the middle of a building-free, 90 acre homestead property that I'd just bought for $16,500. My plan was to create a homestead life for myself and the family that I would have. Fast-forward to 2019, and I'm still here. My wife and I and our 5 kids live in a stone house we built ourselves, I've got a woodworking shop now and cattle are grazing our fields. I never leave the property to earn money unless I want to, and I'm thankful for how everything turned out. Click here to read all about how we got where we are on our homestead with The Bailey Line Chronicles. It's the story of 30 years on the land. I think you'll like it and you'll learn something, too.