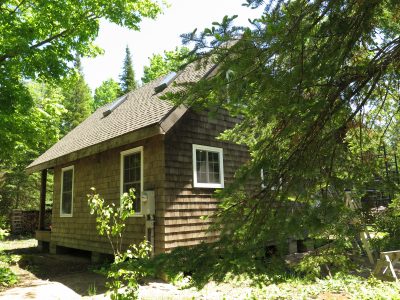 UPDATED 6Mar2020: Do you dream of owning a beautiful, affordable tiny house? The tiny house movement is growing around the world because people want homes that are more affordable and easier to maintain, either as a full-time residence or as a cabin by the lake. The thing is, most tiny houses miss the boat in important ways.
The trick is building a tiny house that feels completely authentic and high quality. For that you need a design with lots of solid wood, classic lines, and details that make it comfortable and cozy year-round. That's what we set out to do at our place here on Manitoulin Island, Canada, and people all over the world are following our example with the online course I created around this project.
My Cozy Cabin building course started when our oldest son decided he wanted to build a cabin when he was 18 years old. That was back in 2008, and the original idea morphed into what you see here. The tiny house in these photos is where he now lives with his wife and their daughter born in 2017.
Design Detail#1: A Tiny House Needs a Porch
I figure that an open porch is a must-have feature for any cabin, and the porch in my design is a simple extension of the roof. Rough-cut posts and beams form the structure that supports the open roof simply, with no hidden places for critters to crawl in and hide. We joined the timbers with a hidden system of metal fasteners that look just like traditional joinery, but are easier to build with.
The photo coming up below shows the main living area of the tiny house as you walk inside. There's a loft upstairs for sleeping, but most living happens downstairs. The ceiling includes exposed, rough-cut beams, too (more on this in a minute).
Design Detail#2: A Tiny House Needs a Loft
Underneath the plywood sheathing you see here there's a 2×6 frame with 2×6 rafters that remain open and exposed to view inside. So many buildings these days are framed with trusses, but this complicates attic spaces a lot and it hides potential beauty. Rafters are much better in this application because they create a completely open loft area, as you'll see later in this post.
The loft provides more than just a place for storage or sleeping. It also creates that all-important "cabin look" that involves no traditional ceiling. Installing openable skylights in the roof allows excellent ventilation and much cooler summer temperatures upstairs.

Design Detail#3: A Tiny House Needs Honest Materials
The foundation in our design is stone piers we built using limestone we quarried. This is a completed pier here. Mortar is best made with 50% masonry cement and 50% Portland cement, added to sand at a ratio of one part cement to three parts sand. This is a good all-around mix for traditional stonework. Sitting on top of the pier in this shot is the 8×12 perimeter beam with a half-lap joint in the corner. There are eight piers like this in our design. The nice thing about a perimeter beam is that it leaves easy access to the underside of the cabin. There's no need to use stone if you don't want to for foundation piers. Decorative concrete blocks, bricks or even Sonotubes will work. The main things is to leave enough space under the building so you can climb below and deal with plumbing and sometimes wiring. Too many tiny homes are built way too close to the ground.
One of the most important things for the look and feel of a cabin is what the roof looks like from the underside indoors. Take a look at the image below and you'll see that the roof boards as visible between the rafters. Insulation exists on top of these 2×8 roof boards, with sheet sheathing on top of the insulation and shingles on top of that. Some people wonder about using something so thick for the visible roof sheathing. The thing is 2×8 construction-grade lumber (which is what this stuff is) is less expensive than 3/4″-thick pine. Also, the thick wood allows the insulation and sheet sheathing to be anchored anywhere that's necessary, not just where rafters exist.
Design Detail#3: A Tiny House Needs Openable Skylights
Skylights or roof windows are an absolutely vital part of making a cabin attic loft that's comfortable in warm weather. Without the ability to ventilate the loft space from above, it'll get way too hot up there – regardless of how much insulation exists in the roof. Besides cooler temperatures, roof windows bring in so much gorgeous light.
The view in the photo here is out of the roof windows on the top of the Cozy Cabin. There are four skylights in the roof in all, and when they're open they allow complete ventilation of the whole cabin. Air just wafts upwards from the main floor. In fact, openable skylights are ideal even in full-size houses. Click here to learn how openable skylights can solve the problem of upstairs bedrooms that are too hot in summer, despite air conditioning making the rest of the house too warm.
The photo below shows the open rafter design, with visible roof boards between rafters. Insulation is applied on top of the roof. 
The photo below shows the kitchen and ground floor living area in the Cozy Cabin design.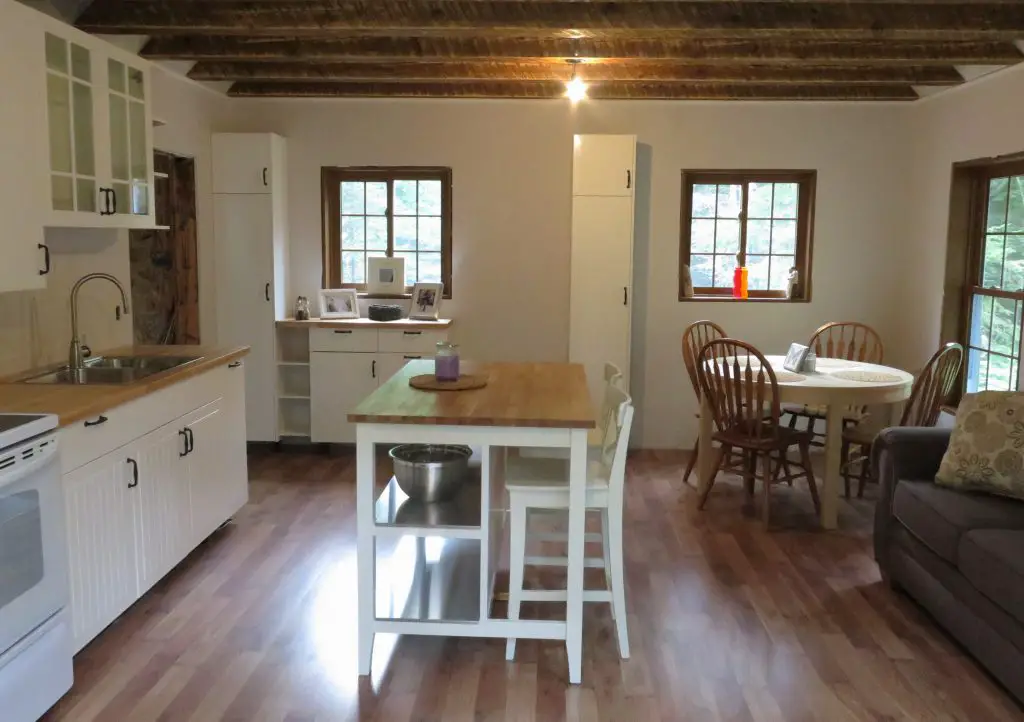 Cozy Cabin Course & Plans Discount
Want to build your own tiny house with your own hands? Or perhaps you want to hire a contractor to build following a great design? The Cozy Cabin course is for you.  You can check it out risk-free because I offer a 100% satisfaction, money-back guarantee. Use the discount code "20off" at check out and get a 20% discount off the regular price. Click here to see why this is my most popular course.
Watch the video below to learn more about the Cozy Cabin course.