A bathroom could be considered cozy for many reasons. One factor that defines it as cozy is how it can be an enjoyable and pleasant space to spend time in and how it goes beyond simply being a functional room.
With this in mind, there are some simple ways to make your bathroom feel and look cozy and fresh, all without spending a lot of money on extravagant accessories and renovations. To help you get started, here are a few easy tips you can try out in revamping your bathroom.
1. Creatively Fold Towels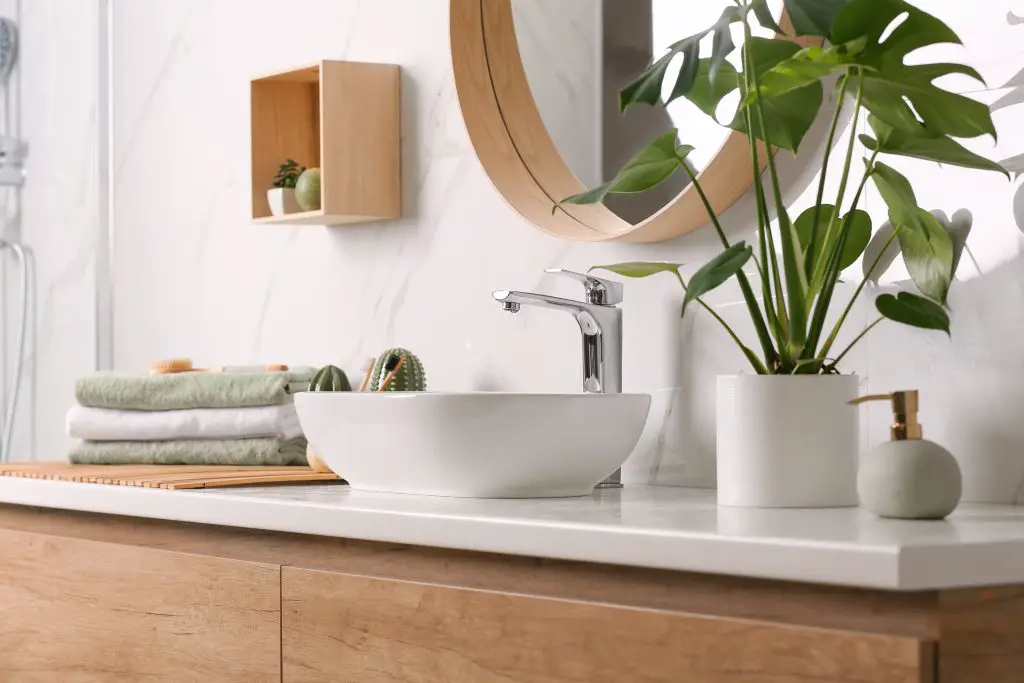 You can creatively fold your towels to give the bathroom a cozy feel rather than simply hanging them on a rod or over the shower rail. For example,  roll your towels into different shapes, such as a swan or a cinnamon roll, and place them on your bathroom countertops.
In addition, you can also explore different colors or patterns of towels to introduce character to your bathroom. You can neatly fold and place them on the shelf or a rack for an added charm to your space. And a tip to note when choosing towels to display is to match them with the motif or style of your bathroom. That way colors and patterns would blend well and complement each other. 
Should you require bathroom towels of different sizes and colors, this site offers a variety of options to match your style.
2. Clean The Bathroom
Keeping the bathroom clean is also another way to give your bathroom a boost and a cozy vibe. In fact, cleanliness is essential. After all, a clean space is always pleasing to the eye.  However, there may be instances when you might not always have time and be able to clean the bathroom daily because of other responsibilities. 
In this case, cleaning the bathroom could mean simply drying the sink area and cleaning any stains, such as toothpaste or dried water spots. Or, it could also mean wiping the floor and shower or bath area after taking a bath. This tip can go a long way because when a bathroom is damp, it can give off a musty smell and may also result in mold developing. 
Furthermore, it's best to deep-clean your bathroom regularly to ensure all corners are covered and that your bathroom remains pristine and in good condition. This process generally includes scrubbing walls and floors, polishing the sink and bath areas to give them a glossy effect, cleaning bathroom fixtures, and even decluttering. You can do the task yourself, or considering how tedious this chore can get, you can also opt to hire cleaners to help you with deep cleaning.
3. Use Scented Candles
Scented candles give off a pleasant aroma that can last throughout the day. Leave the windows open if weather permits to add the extra benefit of fresh air on top of the candle scent. 
With a scented candle on the bathroom countertop or a shelf, whenever you walk into the bathroom, you can be greeted with a fresh fragrance of lavender, rosemary, coconut, or whatever scented candle you've chosen. These, accompanied by the natural air breeze, can make for an irresistibly cozy bathroom.
4. Use Scented Soap
Aside from candles, using scented soap can also contribute to long-lasting fragrance in your bathroom. However, some people may have allergic reactions to scented soaps. With that in mind, it's recommended to get soap that works well even with sensitive skin. 
For a more relaxing experience, consider getting scented bath salts and bath bombs. Creatively place these scented and decorative soaps on your bathroom shelf to spruce up the décor of your bathroom. 
5. Use a Plush Bathroom Mat
A bathroom mat can also contribute to the coziness of your bathroom. Aside from its use to prevent you from slipping after your bath or shower, it can also be a decorative accessory that can complement the cozy vibe you're after. And depending on the color or pattern of the mat you'll get, it can give off a pop of color and texture in the room. 
To achieve a cohesive bathroom, you can opt for a rug that matches your bathroom's theme or color motif. For instance, get a mat with an earth-toned color if you have a minimalist bathroom. But depending on your style preference, consider getting a statement bath mat for a more personalized and creative look. 
6. Warm, Soft Lighting
The warmer the lights, the cozier a room appears. This is because warm lighting is generally relaxing and calming to the eyes. Ideally, designers recommend a color temperature between 2700K to 3000K.
On the other hand, if you want a balance between warm white and cool white lighting and design and function, introduce accent lighting instead. You can add lighting on floating shelves or behind the mirror or vanity to add texture and depth to your space. There's also that option to add dimmer capabilities so you'll have flexibility in controlling the intensity of the lights when using your bathroom.
Wrapping Up
Generally, a bathroom is where you clean and refresh yourself, but it doesn't mean it cannot be cozy and comfortable. With the quick tips above, you can easily revamp your space, all for little or no money.