Are you interested in finishing your basement? Before you get too excited about floor plans, wall treatments and furnishings for your new subterranean living space, you need to get familiar with boring basics. I'll help you with three of the most important boring basement renovation basics right here. In at least one case, indoor air quality in your entire home depends on it.
Reading time = 4 1/2 minutes
Basement Finishing Basic#1: Junk Removal Made Easier
If there's one common factor in all basement renovations it's junk. Most unfinished basements are filled with the stuff by default before work even begins. You've got to move it out before construction starts, of course, but then move out more scraps as you work. Huge, ugly steel bins are the traditional approach to junk management during home renovation campaigns, but they present two problems for the do-it-yourselfer. First, they're massive, often way too big for DIY basement reno duty. And second, they usually cost you rental fees just sitting there. A company called Redbox+ offer mini dumpsters that are perfect for a quick clean out project.  Full-size dumpsters are fine for a contracting crew who can fill the thing in two days, but not so great if you're a little guy picking away at a basement reno on your own, possibly for months in your spare time. This is where mini dumpsters and bags bags can help.
Got just a little trash to get rid of? Consider trash removal bags like the one you see below.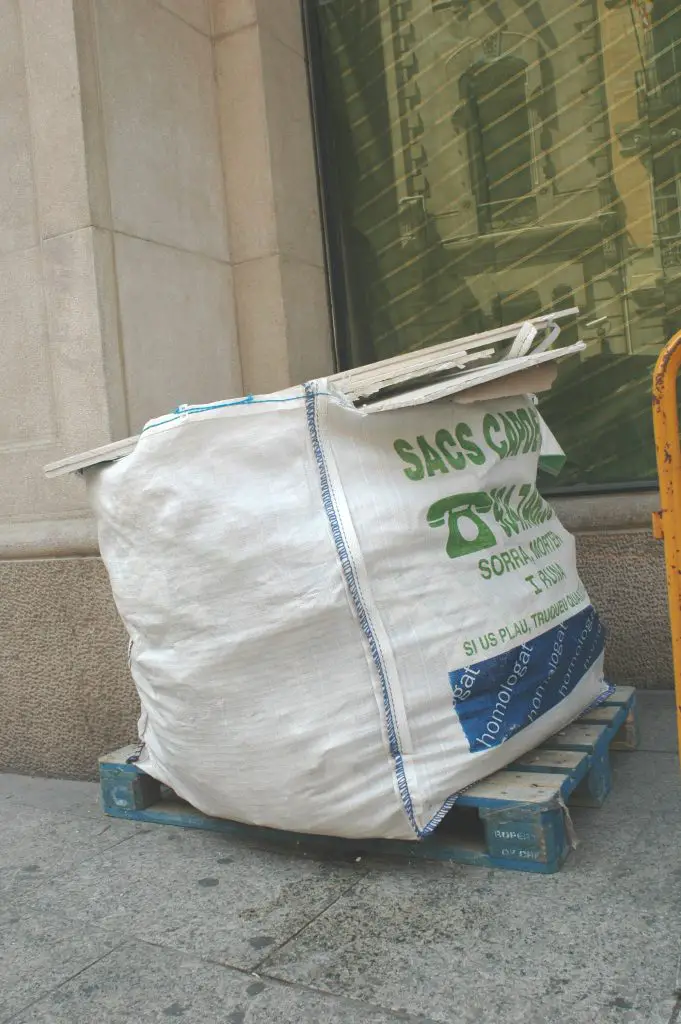 How Trash Removal Bags Work:
They're a woven, heavy-duty waste bag system that makes junk management easier for home improvement DIYers.
You buy the bag at a hardware store or building supply yard,  then take as long as you like to fill it up.
When it's time to get rid of the contents of the bag, contact the company, pay for collection, then wave goodbye to the big bulging bag.
Pickup services are not available everywhere, so check before you buy a bag.
Versions of bag systems gained popularity in Europe, but it's a great idea so it's spreading all over the place.
Basement Finishing Basic#2: Powder Actuated Tools
Every basement renovation involves connecting some kind of wall framing material – either wood or steel – to concrete floors. And the best way to make this connection is with the help of a tool that's generically called a "powder actuated tool" (PAT). Various companies make PATs and all use an explosive cartridge to drive nail-like fasteners directly through wall frames and into concrete without the need to drill holes. It's fast and effective, but scary, right? Not really. No need to worry. Read the instructions, wear safety glasses, put on hearing protection, and keep bystanders out of the basement. You'll be fine. You can even get a pretty good little PAT for less than thirty bucks. That's what I paid for my trusty Remington and it's worked perfectly for years. You can see it on the left, below.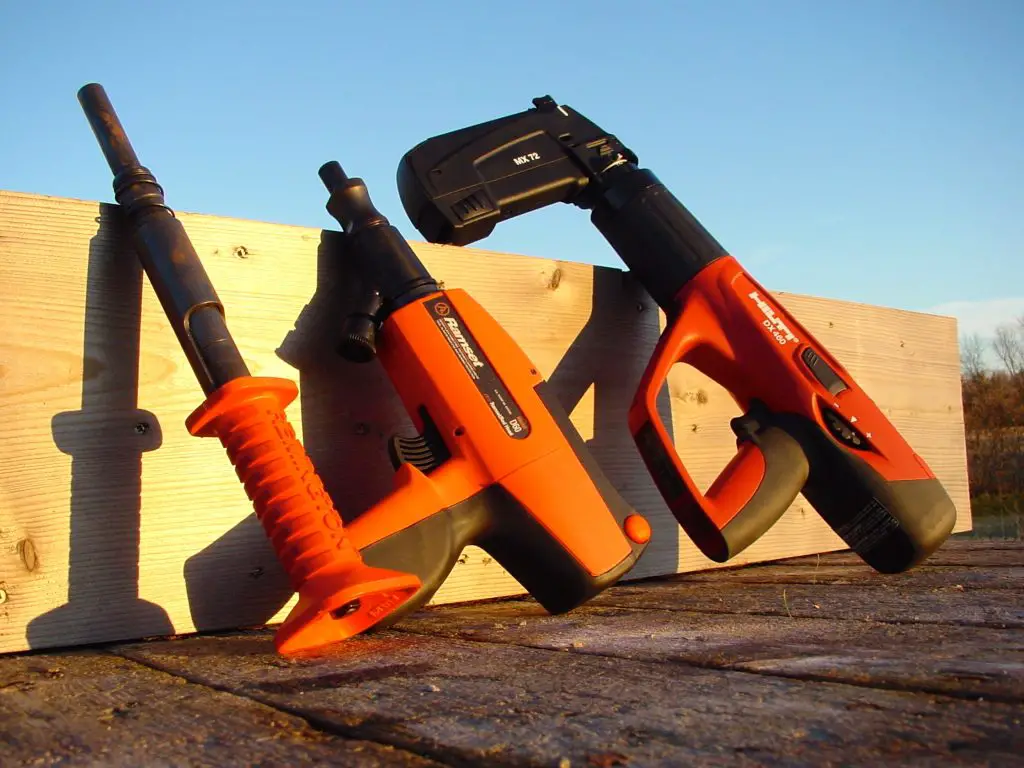 Basement Finishing Basic#3: Cordless Impact Drivers
Although you could join your basement wall frames and wooden features with nails only, you'll do a lot better if you use deck screws in key areas. They hold better, they go in easier and you can take them out again if you need to adjust fit and location. The only thing better than screws is driving them with a cordless impact driver. These are now made by all major power tool companies and for good reason. Impact drivers are much better at driving screws than regular cordless drills.
Impact drivers drive more screws per charge than a drill, and they keep the screwdriver tip where it belongs — engaged in the head of the screw. This last feature is the biggest advantage of an impact driver. Where a regular drill simply rotates, impact drivers work by turning forwards then slightly backwards in a rapid, high frequency pattern. This alternating motion effectively resets the screwdriver tip in the head of the deck screw as you drive it, virtually eliminating the hassle of a driver tip that slips and makes a mess of the screw head. The only drawback of an impact is that most can't hold an ordinary drill bit. The hex-shaped tip is made to grip standard driver bits directly. Several companies have made impact drivers more versatile by offering a regular drill chuck that slips into their standard impact driver tool. You can drill holes and drive screws.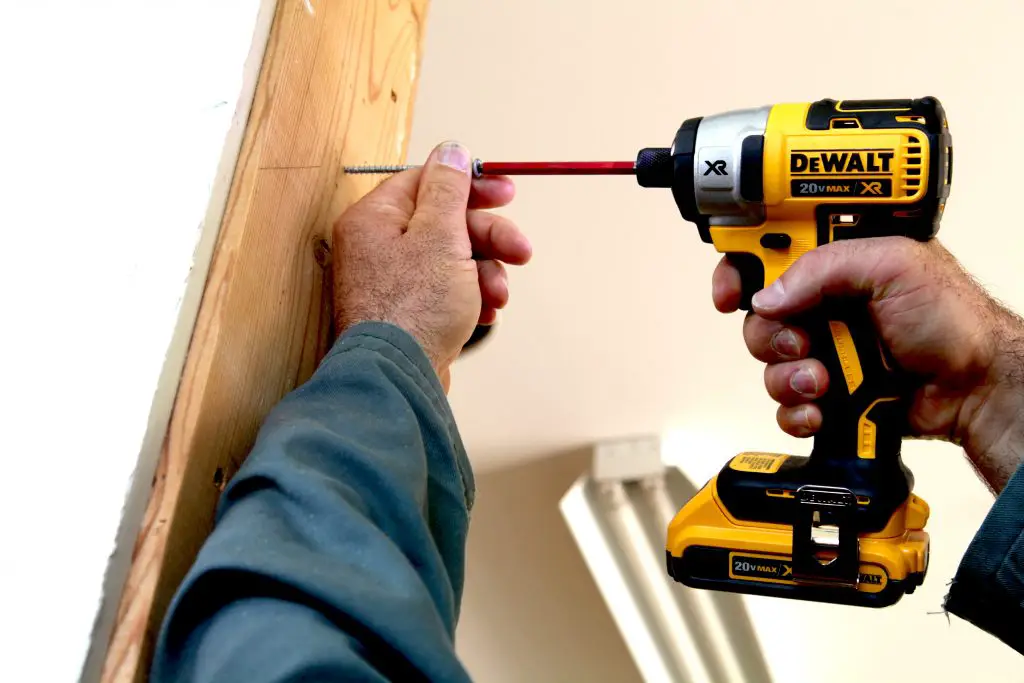 With all the boring issues covered, you'll get to the fun part of finishing your basement quickly and effectively. Now how about a resolution to keep that finished space as neat as it was when you emptied it out for construction?
Want to see one of the most important parts of a wise basement renovation? Watch the detailed technical video below and see for yourself. It's about basement subfloors and is part of the online course I offer HOW TO FINISH YOUR BASEMENT THE RIGHT WAY.  Even many professional do not get the critical details right.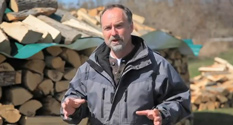 I hope you liked this article and video! Please consider joining other faithful visitors who help cover my out-of-pocket expenses for producing and publishing content like this. The "buy me a coffee" button below is a fast, safe and easy way to make a contribution. Thank you very much to all who are helping out in this way now.