Got lots of big stuff to store? Need a barn, workshop or drive shed? Consider a fabric structure. Many people I speak to says they never have enough sheltered space for their gear. This is certainly the case with me at the moment, and it's why I've decided to put up a large fabric structure at my rural place, rather than a frame building. This article covers some of the things you need to consider if you think that a fabric structure may be for you, all in a Q&A format.
Reading Time = 8 1/2 minutes
I began researching the options back in December 2020, and I've settled on a Canadian company called Calhoun Super Structure to build me a 42′ x 80′ fabric structure like one you see above. They've been making engineered fabric structures since 1992 (when the field first began to get big), and I'm impressed with their engineering and customer service. In the process of my work with them I've had a bunch of questions. If you're at all interested in getting a fabric structure at your own place, or just want to learn more, you might find this Q&A article helpful. It can save you time and get you to successful completion sooner.
Building Permits 
Q: Do you need a building permit to put up a fabric structure?
A: Yes, as I discovered, most municipalities do require a building permit even for a fabric structure  but getting one is not difficult. All Calhoun structures come with engineered and stamped drawings suitable for building permit applications. The process of getting a permit to put up a fabric structure is simpler than with many conventional buildings, precisely because of the engineered drawings that are part of the package. You can see one page of the drawings they sent me below.

Fabric Working Life
Q: How long will the fabric last on a structure?
A: This is a big question for sure. The standard warranty with Calhoun is 15 years on fabric and steel frame. They offer an upgraded "Elite" fabric option that comes with a 25 year warranty at just  little more expense. I'm going Elite. White fabric is the most popular and allows the most light and solar heat gain inside the structure during winter.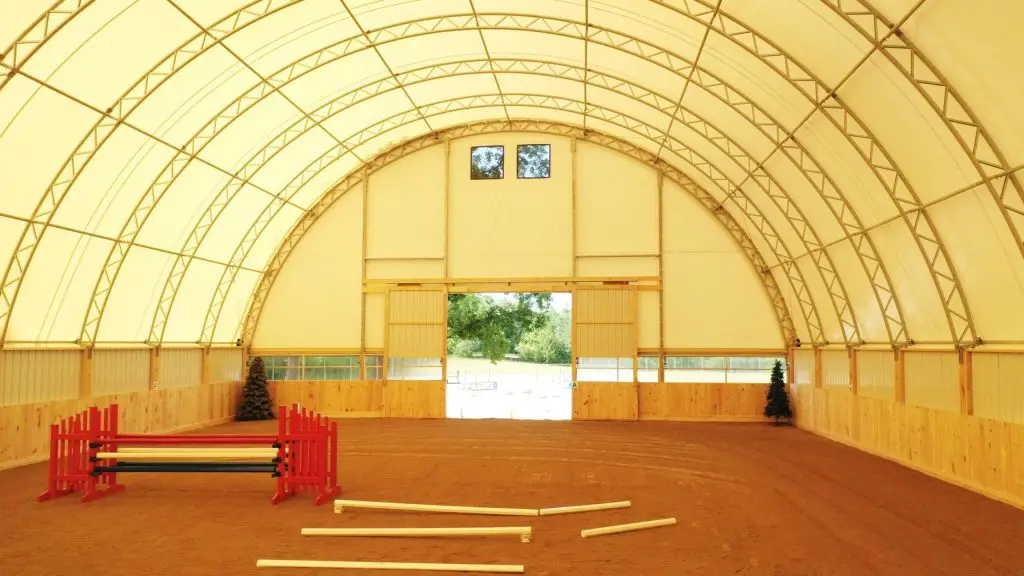 ---
Fabric Versus Frame Building?
Q: Why would anyone choose a fabric structure over a conventional framed building?
A: The attractions for me are ease and speed of installation, lower cost per square foot and a light and bright interior space automatically – these are the main reasons people choose fabric structures over traditional framed buildings. You need to spend time inside a fabric structure to really appreciate how pleasant a space it creates. I have a 16×30-foot structure at my place now and the atmosphere in there is great. And it's surprising how much it warms up inside during a sunny, cold winter day.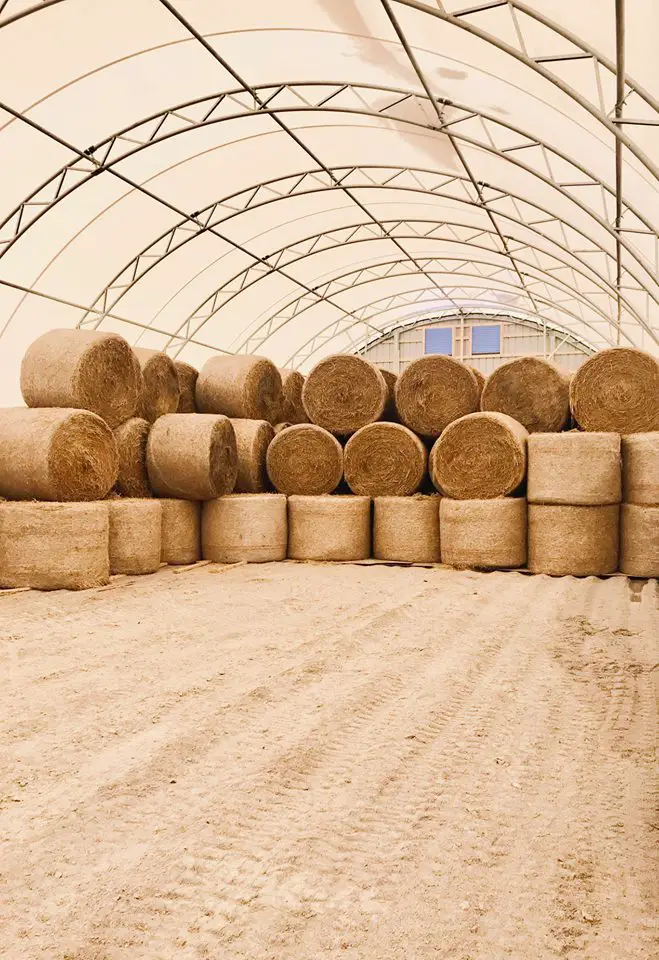 ---
Shipping Container Foundation?
Q: Can fabric structures be built on metal sea containers? I hear this is possible. 
A: Yes, and this was attractive to me at first, though I know now there's more to it than meets the eye. While it's true that shipping containers can provide enclosed and secure, vermin-proof storage as part of a fabric structure, in most cases these containers need to be reinforced with steel in order to bear the load of a structure. Dan Dalzell, an engineer at Calhoun explained all this quite clearly to me. One alternative to sea containers is building a building within a building inside the structure. This is what I'll be doing, and not going with a sea container option as I originally planned. Besides, sea containers are insanely expensive right now, costing more than the structure itself in some cases.
---
Foundation Options
Q: What kinds of foundations do fabric structures require?
A: Many different kinds of foundations can be used. One popular option is high-grade pressure-treated wooden 8×8 posts set into soil. Poured concrete walls are also an option, with steel legs bolted to the top.  Large concrete barricade blocks can also be used when equipment or livestock might damage a conventional foundation wall. Calhoun provided me with direction for simple foundation options, but if actual engineering is needed for the foundation, that's something I'll handle at my end. My shelter will be going up on flat limestone bedrock, so there will be short concrete walls pinned to the rock.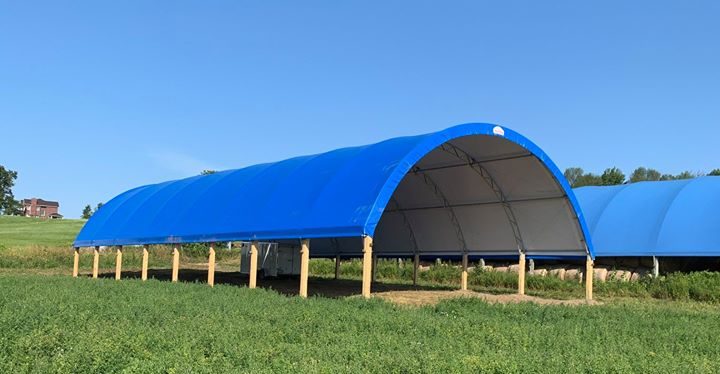 ---
How Many Models?
Q: How many different models does Calhoun offer?
A: As it turns out, too many to count. There are currently seven different major building profiles in the Calhoun line, with virtually infinite options within these profiles. Each structure is unique, based on direction from individual clients. The different profiles are just starting points and refer to the shape of the end of the structure. Click below and you can see a lineup of their profiles. The CC+ model (second from the left) is the newest model Calhoun offers and lowers costs for wide structures.
---
Designing and Ordering
Q: What's the process of obtaining a fabric structure?
A: It all began with a conversation I had with a design specialist at the company.  Since each Calhoun structure is custom designed, I worked with an engineer named Dan Dalzell to determine what I needed and the various options for meeting those needs. When the design is finalized it gets sent to the fabrication shop where the metal frame is built and the fabric covering created. The entire structure will be packaged and shipped to my site for final assembly. Stamped and engineered drawings come with all structures so getting a building permit is easy.
---
Assembling a Fabric Structure
Q: Is it practical for someone to put up their own fabric structure?
A: I'm told that about half of all people hire a contractor to assemble their shelter while the other half assemble their structure themselves. Cost for having a company like Calhoun put up a structure as large as mine could cost $10k in labour so there's serious money to be saved.
---
Company History
Q: How long has Calhoun been in business?
A: This was something important to me since I want a company with a proven track record. Calhoun began in 1992, when fabric structures were just starting to appear in the world.  Since then they've pioneered a number of innovations including hot-dipped galvanized frames delivering 3x the working life of ordinary frames. Their specialty is designing structures for each specific site and application. They're still a family-owned business too, now in their second generation.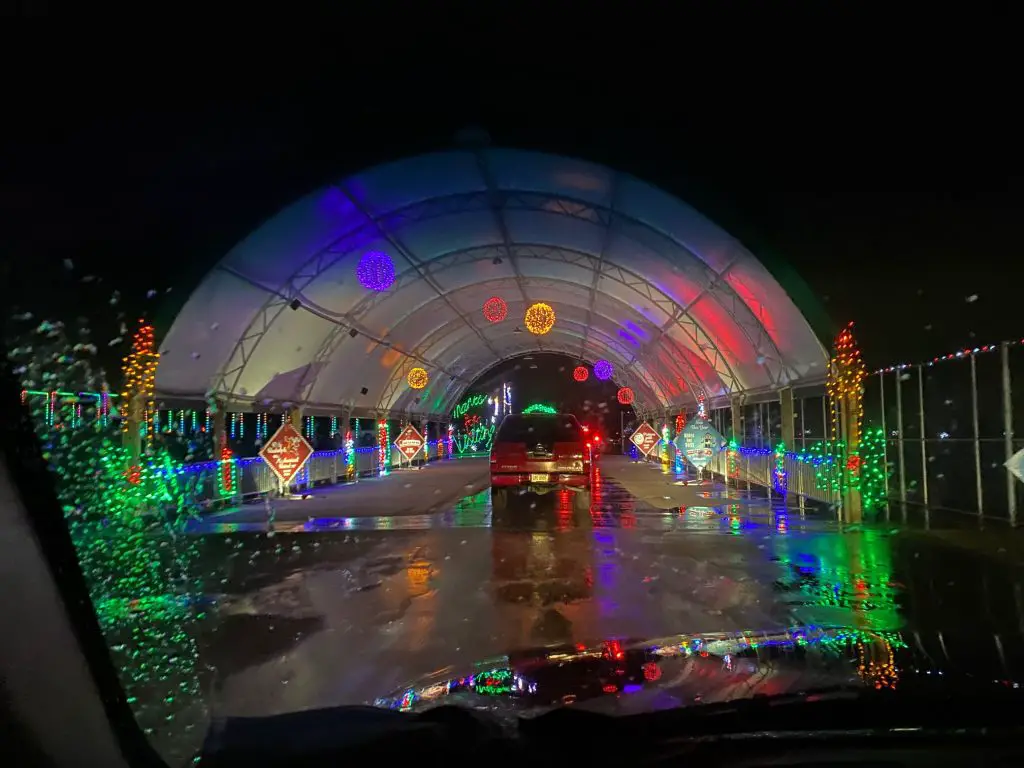 ---
Heating a Fabric Structure
Q: Can fabric structures be heated?
A: Yes, but the situation is different than you might imagine. Insulation blankets can be installed on the inside of the structure, but that will block the natural light that normally comes through the fabric. But even without insulation, fabric structures pick up a surprising amount of solar gain on sunny winter days. This is especially true for structures covered in white fabric, the most popular colour. My plan is to insulate the 10-foot tall vertical walls of my structure in the usual way, but leave the fabric open above. I'll install a heating system but I won't run it all the time, but just to take the chill off on sunny winter days when I have some equipment to work on.
---
Size Options
Q: What sizes of structures does Calhoun offer?
A: Currently they build structures as narrow as 16 feet and as wide as 250 feet. Length can be anything you want. Currently the longest structure they've created is a warehouse facility in Windsor, Ontario, Canada measuring 612 feet long. That's what you see below.
---
End Wall Details
Q: What options are there for the end walls of fabric structures?
A: There are three main options: full-fabric, half-fabric and no-fabric ends. One popular approach involves maintaining the same height of solid framing on the end walls as on the side walls. The rest of the end wall is covered in fabric that extends to the top of the structure. This is what I'll be doing and you can see an example below.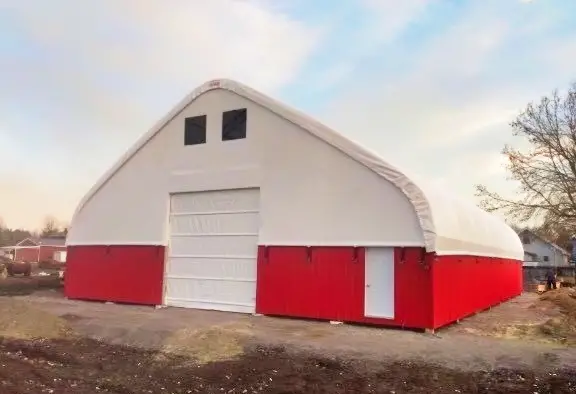 ---
Withstanding the Weather
Q: Can engineered fabric structures really withstand harsh winter weather and heavy snow loads?
A: According to everyone I talk to there are no issues resisting wind and snow. That's mostly because each structure is designed to withstand weather extremes and snow load for a particular location. A properly engineered fabric structure is at least as strong and weather resistant as any frame building. Fabric structures go up much faster and they can be taken down and moved if needed in the future.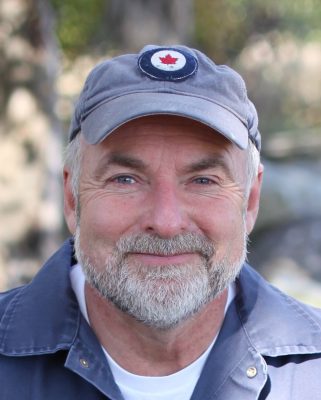 If you have any questions that I don't cover here, send me an email at [email protected] I've lived with a 16×30-foot fabric shelter for 15 years, and more recently done a lot of research on fabric structures of all kinds plus extensive conversations with Calhoun. I can probably answer anything you're wondering about.
– Steve Maxwell