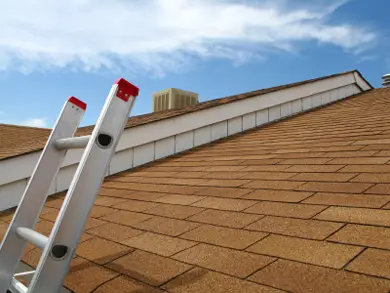 I have a tendency to shun new ways of doing things until the evidence in favour of innovation becomes too strong to resist. Then I become an ardent convert, spreading the good news about the latest tool or technique with fervour. That's the case with air-powered roofing nailers and asphalt shingles.
Hammer Driven vs Roofing Nailer
I'd always believed that hammer driven nails were best for securing shingles, especially in light of the wind-torn shingles I'd seen that had been put down with roofing staples. Obviously, good-old roofing nails are the only way to go, right? I held to that conviction until I saw a shingler redoing the roof on the 1000 sq. ft. home next to the one I was working on in the summer of 1999.
With an early start, a coil-fed roofing nailer in hand, and no one else to help, this guy got the whole two-peak roof done in one day. As fast as he flopped down the shingles, they were secured. Even if speed weren't one of the benefits of the technology, who'd want to keep grabbing handfuls of bristling nails and hammering your thumb periodically if it could be avoided?
Asphalt Roofing Basics
Roofing nailers are one small reason why the productivity of tradespeople is increasing everywhere. Homes are going up faster and better in many ways. But there's a downside, too. When high-productivity becomes the expectation, it's harder to slow down and do things right when careful attention is required. Faster tools can lead to shoddier workmanship unless you realize that successful tradework isn't always a race, even when speed is often a virtue. Regardless of how fast shingles can be secured, the basics of a good asphalt roofing job remain the same:
Reliable eaves treatment
Leak-proof valley design
Effective use of roof-edge drip strips
Rooftop Icing
If there was any doubt about the need for a waterproof membrane along the eaves of asphalt roofs, last winter's long stretches of cold weather — and the rooftop icing it caused — should dispel them.
This trouble happens around the eaves of homes when too much heat escapes through the roof.
The ice berm that builds up around the cold, unheated eaves traps water on its way down, allowing it to work its way underneath shingles and into your house.
The resulting water damage to homes was a big headache for people in most parts of Canada, a headache that could have been avoided if a self-sealing, under-shingle membrane had been installed originally.
It's often easier to deal with rooftop icing this way, rather than reducing attic temperature as a root-cause solution.
Reliable Eaves Treatment
Ice and water membrane is much more than just tar paper.
It's offered by several manufacturers as roll-out sheets, designed to fuse together along seams and around nails without heat.
The sealed surface it creates may never come into play if rooftop pools or wind-driven rain never get under your shingles. But if it does, and the membrane is in place, you'll never know it happened.
Leak-Proof Valley Design
Valleys have the reputation for being another potential weak link in roofs, but that has more to do with how valleys are typically covered than anything unavoidable. Although it's not yet popular all across Canada, woven valleys not only look better than traditional open valleys, but they're faster to install and much more durable.
Start with some tar paper and sheet metal valley flashing.
Instead of cutting the shingles a few inches from the valley centre, run the shingles right over and past the valley.
Do this first from one side then the other, to create a woven shingle pattern that's as durable as any other part of the roof, all without the need to cut a single valley shingle.
You'll get best results if you start each course of shingles in the valley, working outwards from there. That way you can be sure to eliminate joints between shingles directly on top of the valley.
Perfect Recipe for a Reliable Asphalt Roof Job
Bring together a pneumatic roofing nailer, eaves membrane, 30-year shingles, a plan for woven valleys, and aluminum drip strips all around and you'll get an efficiently-installed, long-lasting and reliably-dry asphalt roof job. And who can complain about that, even if it isn't quite the way they used to do it in the olden days.