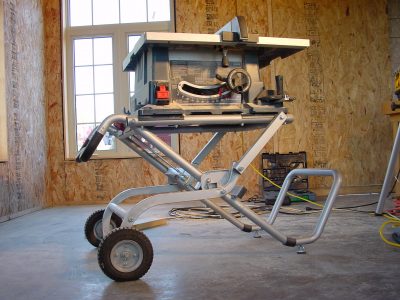 Q: What's the best circular saw for building furniture? I'm a newbie woodworker, my budget is tight but I'm already addicted to the craft.
A: I'm glad to hear you want to build furniture. My own interest in this began the early 1980s, and eventually led to professional work as a cabinetmaker, and my own house that's now filled with furniture I've made.
When it comes to power saws for furniture building, there are a couple of ways to look at things. The best option is a small, portable tablesaw. I especially like the Bosch, but the Ridgid is quite good, too. A tablesaw like this costs about $600 to $700, but it delivers straight, accurate cuts quickly. That said, it is possible to build fine furniture using a hand-held circular saw as your main cutting tool for about 75% less money. A man named Gary Walchuk proves it. He has designed and built almost 300 projects which have appeared in print, and he didn't own a tablesaw while building most of them. It takes more time to set up accurate cuts with a circular saw than a tablesaw, but it can work. If I were buying a hand-held circ saw for building furniture, I'd choose one of the lightweight, corded 6 1/2″ models. You won't need to make really deep cuts with the work you have in mind, so you might as well choose a model that's not too heavy.