Thinking of investing in a MIG welder for your home workshop? Perhaps you're thinking that welding might even turn into a profitable sideline for you, if it's not just a hobby. Welding projects can be both fun and rewarding, allowing you to quickly make solid repairs to metal items that break, plus fabricate useful items out of metal you'd normally have to buy or hire someone else to make. I've been welding for more than 40 years, I've seen welding equipment get much better than it used to be, and I teach a popular online course on welding: MIG WELDING FOR THE HOME WORKSHOP. If you're looking for help choosing the best MIG welder for you, you've come to the right place.
Use the clickable table of contents to the left to go exactly where you want to in the article.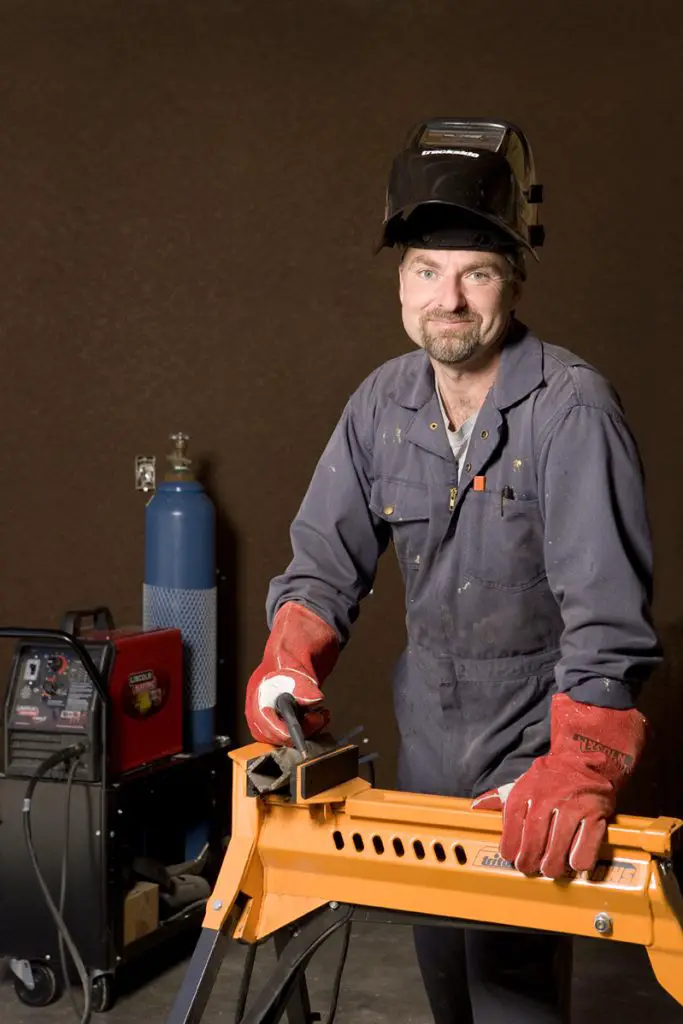 A reliable welder can make a huge positive difference to your productivity, and of all the welding processes. The best welder type for the money I know of for beginner and intermediate metal joining hobbyists is a MIG welder, and this is the type that this article will show you,
Unfortunately this doesn't narrow things down much, since there are hundreds of models of MIG welder out there, varying greatly in fanciness, features, and price. That's why I've done the legwork for you by assembling the list below containing some of the best MIG welders I know of in various categories. Before we get to that though, you need to understand how MIG welders work.
What Is MIG Welding?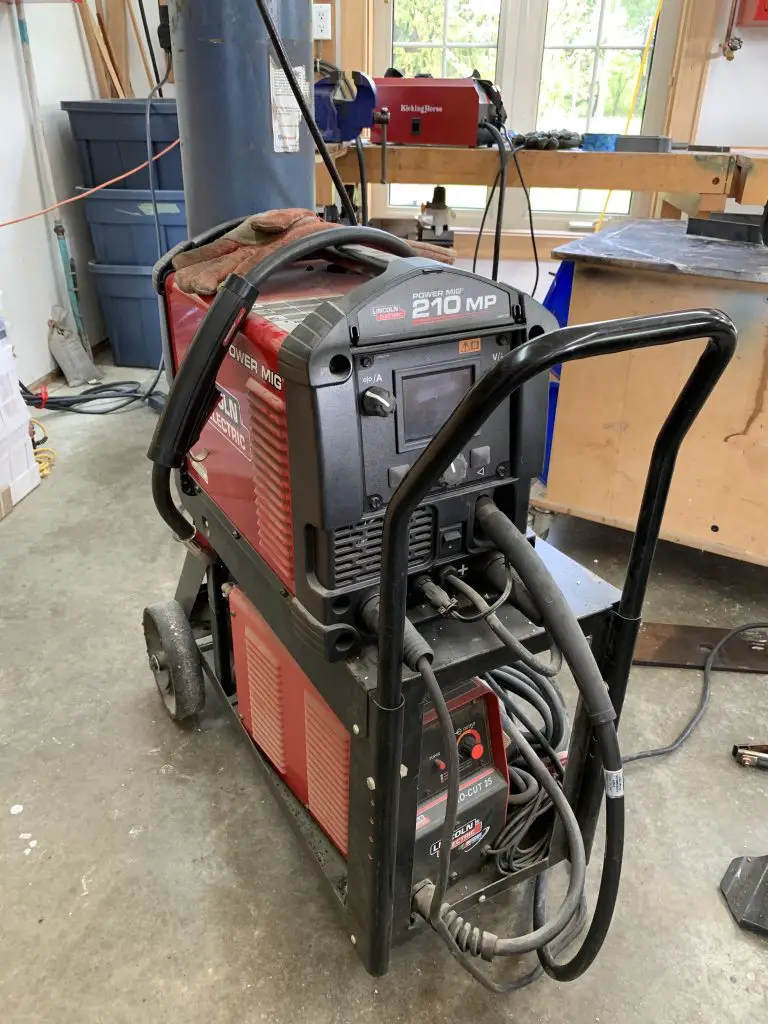 MIG welding is a process of joining pieces of metal (often steel) together using an electrical arc and consumable wire. MIG welding machines use spools of this wire (called feed wire) as both an electrical conductor and filler material to join the pieces of metal being welded. The wire is supplied through a MIG gun (also called the spool gun), which is a handheld, trigger-controlled device attached to your MIG welder.
Every metal inert gas welder has a MIG gun, whether it's a simple MIG welder or a professional welder designed for heavy duty applications.
"MIG" stands for "metal inert gas", and this refers to the shielding gas that's a necessary part of every MIG welding process. Without shielding gas, the molten metal you're trying to join would quickly oxidize, along with your feed wire. The result would be a rough, spatter-filled weld that isn't very strong.
Gas Shielded vs. Self-Shielded
Gas metal arc welding can take one of two forms: gas shielded or self-shielded (also called flux core welding). The difference has to do with how the gas is delivered. You can see the two types of MIG welds below.
Every gas-shielded MIG welding machine delivers a steady flow of gas (exactly which gas varies depending on the metal you're welding) through the same hose connected to the MIG gun. This hose also happens to be where the feed wire travels on its way from the spool housed on your MIG welder to the weld you're working on.
Self-shielded or flux core MIG welders still use shielding gas of sorts, but it's not supplied through the weld gun. Instead, the weld wire itself is filled with a substance that turns into shielding gas from the heat of the weld. Flux core wire is always necessary when you're not using a shielding gas from a tank, regardless of which of the many MIG welders on the market you have.
It's important to realize before you start welding that flux core wire is more convenient than gas-shielded welding, but the results aren't as neat. Flux core wire leads to slightly rougher welds and some whitish discolouration of the workpiece, even if you achieve a perfectly stable arc. For these reasons the overall weld quality of flux core wire welding isn't quite as good as gas-shielded weld quality.
Buying the Best MIG Welder
When it comes to buying your first MIG welder, there are a few important points to keep in mind. Remembering these will help you select the best MIG welder for your needs, without having to spend hours reading MIG welder reviews and trying to make a buying decision without sufficient information.
Price. Even if you don't plan to weld often, you should still buy the best MIG welder for your needs and budget. Don't cheap out, since low priced MIG welders often fail prematurely, and are prone to poor MIG welding performance even when they do work.
Voltage. MIG welders are wired to run on either 120 or 240 volts. The difference boils down to the thickness of metal they can weld, and the strength of the weld beads. A 120 volt MIG welder works best for joining sheet metal, 1/8 inch or less in thickness. Go much thicker than this and the electrical arc of a 120 volt machine won't melt the workpiece sufficiently to get a deep, strong weld bead. That's where 240 models come in. Choose one of these is you're planning to join metal up to an inch thick or so. Some models can also switch from one voltage to the other. This sort of machine is called a dual voltage MIG welder, or simply a dual voltage welder.
Gas Arrangement. Decide ahead of time how picky you are about how your welds look. MIG welding with self-shielding wire works fine, but the results aren't as pretty as what you'll get with a proper shielding gas setup. If you're not sure, the best MIG welder to buy is one that can use both self-shielded wire and an external shielding gas setup.
Best MIG Welders
There's a lot of ground to cover here, and the right choice for you comes down to deciding how serious you want to take the whole welding thing.
Best 120 Volt MIG Welder
Simple, reliable design and easy-to-use controls are what make the Lincoln Electric K2185-1 120 volt MIG Welder stand out. If you're looking for a great MIG welder for joining sheet metal 1/8 inch thick or less, it's hard not to like this welding machine.
I've got lots of experience with various Lincoln Electric MIG welders, and have yet to try one I didn't like. This MIG welder comes with a spool of wire, plus all the nozzles, attachments and welding gun tips you'll need to do some serious metalwork.
The machine only weighs 26 pounds too, so welding anywhere with power is easy. "It is very simple to use and is pretty much a plug and play product." Shares an Amazon reviewer. "I was making my first welds in minutes after unboxing it. Presently, I have made a couple small items and a rack to store steel bar. The MIG welder works as advertised and for the DIY person looking for one to have in the garage, it is a great purchase."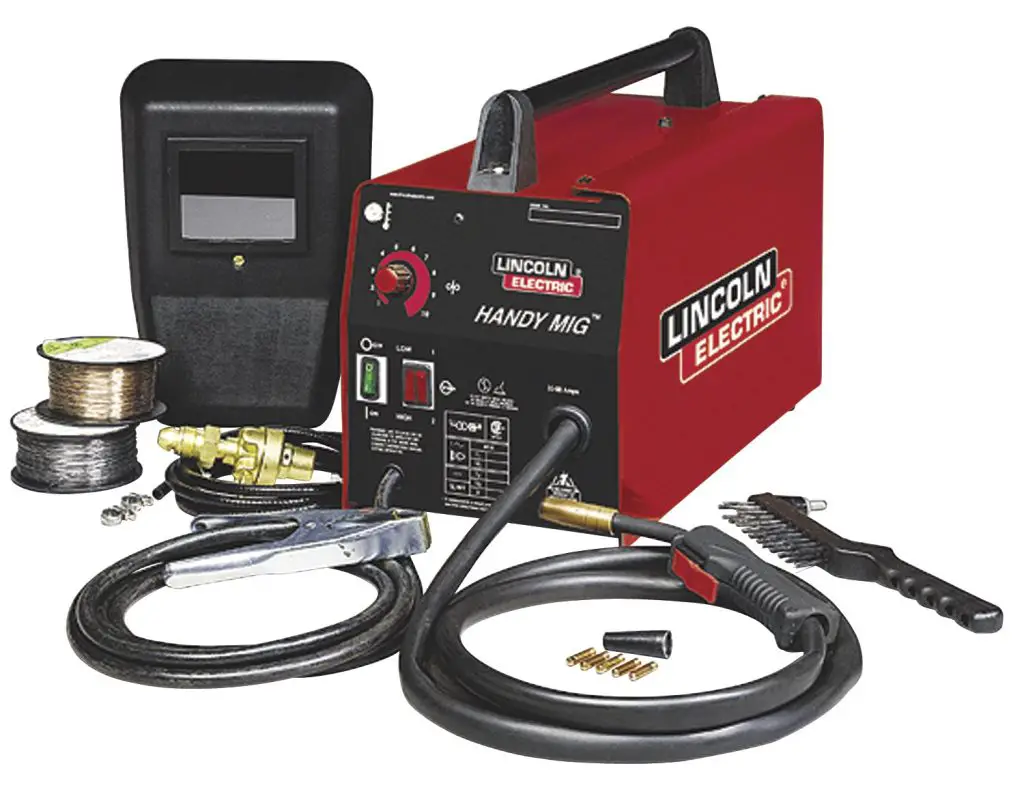 Best 220 Volt MIG Welder
Easy MIG welding right out of the box is what makes the Lincoln Electric 180 Amp Weld-Pak shine. This high quality MIG welder runs on 240 volts, allowing thicker metal to be joined than what a 120 volt welding machine can handle. If you plan on joining steel or other metals thicker than 1/8 inch or so, this is certainly a suitable MIG welder for your needs.
The kit comes with the welder itself, a spool gun, gas regulator and hose, ground clamp, and two spools of welding wire. One handy feature of this Lincoln welder is that it can be configured for both gas shielded and self-shielded welding.
"It has straightforward instructions for setup, adjustment, and use." Shares a reviewer on Home Depot. "Converting it to shielding gas use was so easy, I was building my welder cart with it within an hour of pulling it from its box."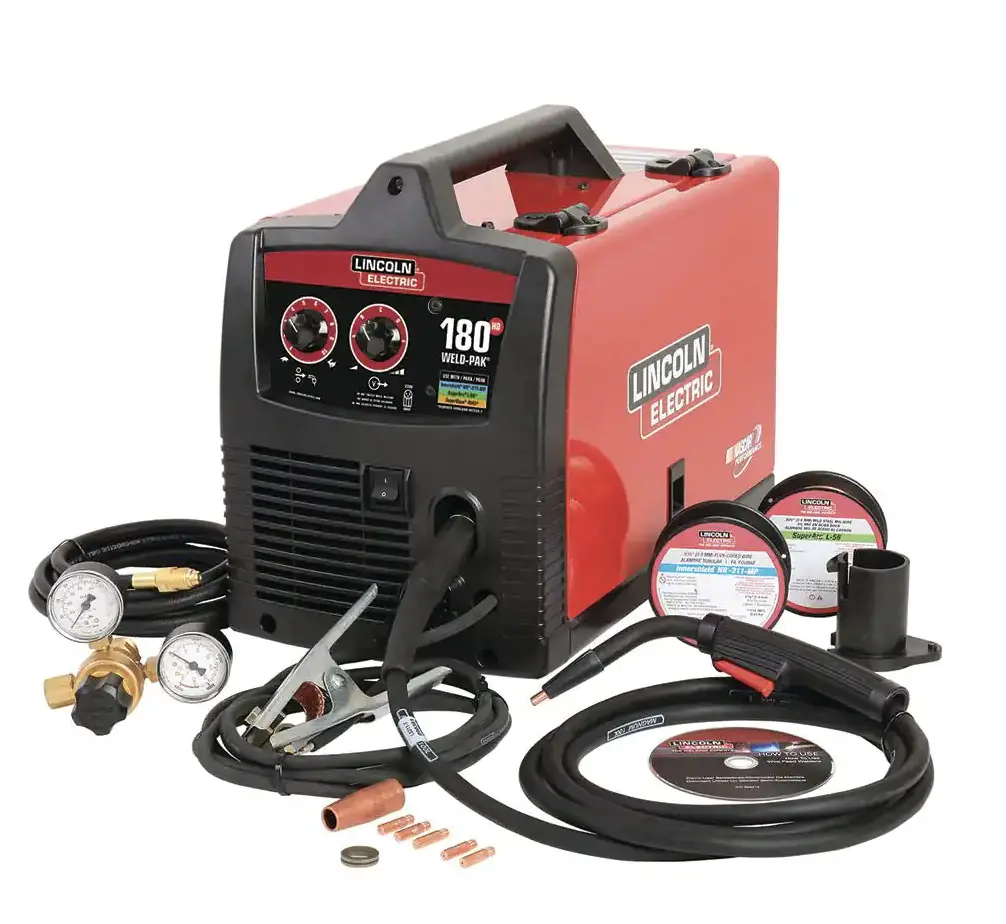 Best MIG Flux Core Welder
Exceptionally light weight, compact design, and a hefty 3-year warranty are what make the Weldpro MIG155GSV shine. Designed for flux core welding, this MIG welder is a dual 120/240 volt unit, making it versatile for its size.
Speaking of size, at less than 22 pounds, this is one of the best MIG welders around if you're looking for light weight and easy portability. Bonus: this MIG welding machine can be reconfigured for stick welding.
Another reason this is one of the best MIG welding machines of its size around is the great customer service that comes with it.
"I am extremely impressed with the excellent technical support and customer service I received from Weldpro." Shares an Amazon reviewer. "I had a minor problem with my welder, I phoned and spoke with Joe, he was very knowledgeable, helpful and very nice to deal with. Joe provided me with the support and information I needed. My welder is now functioning properly and I am delighted with the Weldpro 155. I enjoy having both a MIG and ARC welder in one unit. I am a retired welding instructor and I believe this is one of the best welder for the money."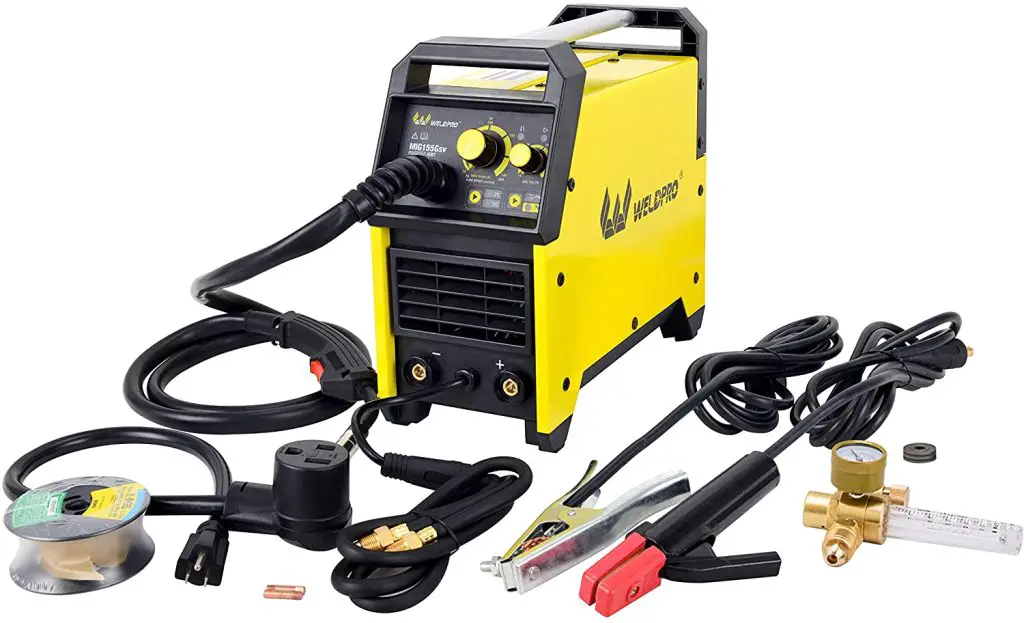 Best Dual Voltage MIG Welder
This refers to the voltage of electricity the welder requires, and dual voltage machines accept 120- and 240-volt inputs. The Lincoln Electric PowerMig 210 MP is the MIG welding machine I use most often in my own metal joining work, and there are lots of reasons I like it so much. The main reason is that it makes great welds. Infinite wire speed control and voltage adjustment are two of the biggest ones, since these make it easy to get nearly perfect weld beads every time.
Besides its dual voltage capabilities, another reason this is my favourite welding machine at the moment is the large digital screen. Numbers and settings are easy to see and adjust at a glance, without having to squint at tiny knobs to check your voltage or wire speed.
A 120/240 dual voltage welding machine, I've successfully used this rig to weld mild steel up to 3/4 inch thick with just a single pass of the MIG gun.
"This is a fantastic multi-process unit, very lightweight and runs on either the standard 115 single or 220 single phase supplies." Explains a Home Depot reviewer. "It comes with quick connect cables for either supply choice. Very capable machine and I've been very happy with it."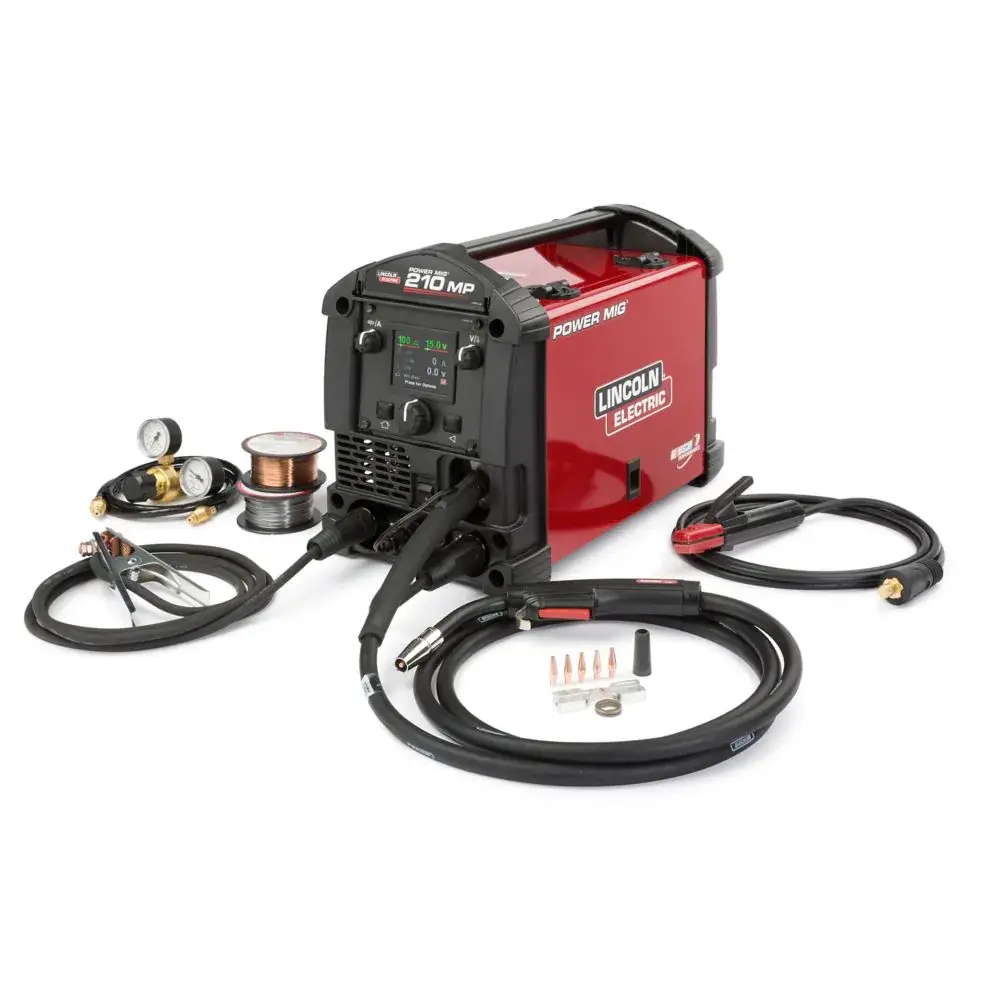 Best Value MIG Welder
I don't usually list a machine as the best MIG welder in a certain category based on low price. As I said earlier, low price alone is often more of a warning sign of which MIG welders to avoid rather than which to buy. The Tooliom 200A MIG Welder is an exception.
At just $310 USD, this is a great example of a budget dual voltage MIG welder that doesn't skimp on quality like some other inexpensive welding equipment. Like pricier professional welders, this rig can handle both gas shielded with a gas cylinder connected and flux MIG welding. You can set it up to do a TIG weld too.
The machine is under 22 pounds, placing it as the lightest dual voltage MIG welder with a full range of features that I've seen.
"Honest opinion from a fabricator." Shares one Amazon reviewer. "My goal in this little experiment was to test the capabilities of an inexpensive machine and I was able to produce similar results to what I normally achieve with much pricier equipment. This machine is very capable for what it costs."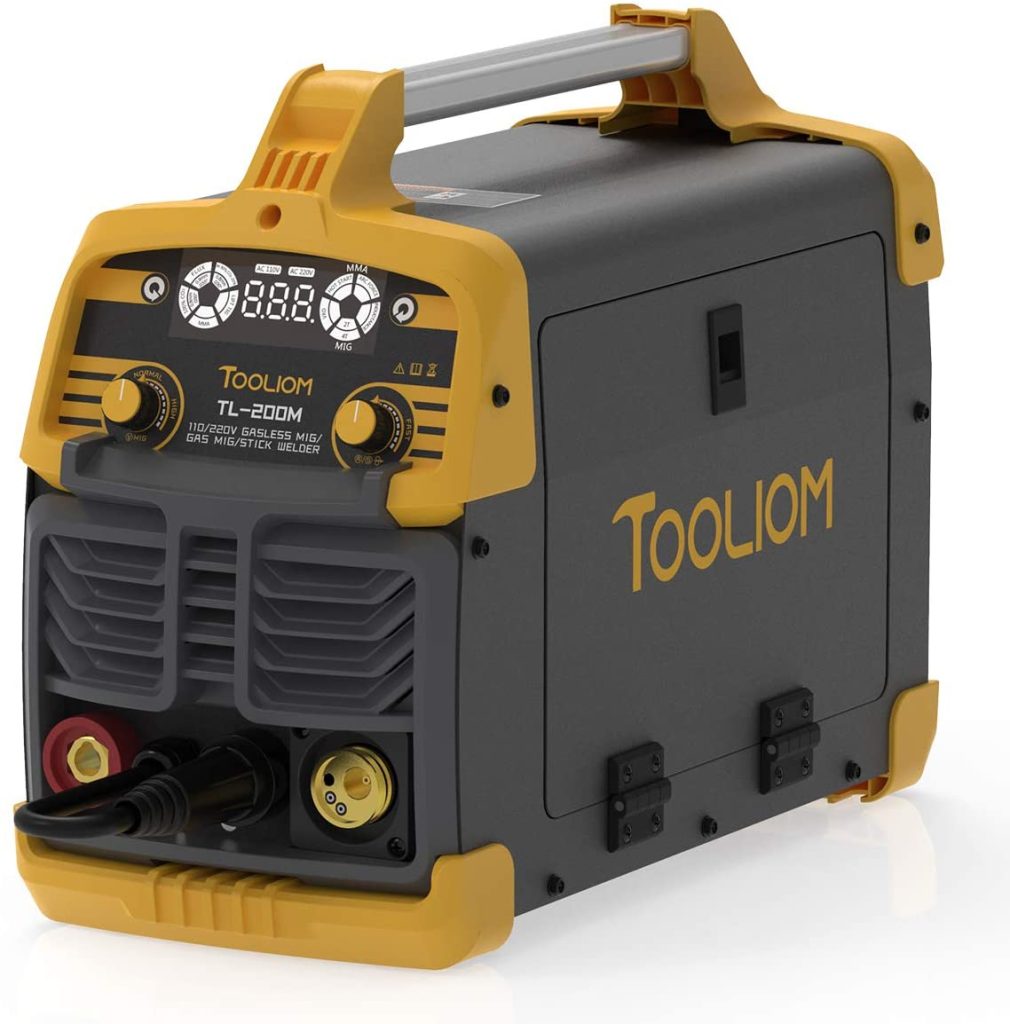 Best Portable Welder
Both experienced and beginner welders can benefit from a small, portable MIG welder for joining mild steel and other materials. The KickingHorse F130 is my personal favourite. Welding steel sometimes means working in some unusual places without the comfort and convenience of a fully equipped shop.
A large, heavy professional welder isn't much use in these situations, since you can't easily move it or set it up in difficult-to-reach areas. At under 11 pounds, the F130 is a highly portable 120 volt MIG welder. It's the best MIG welder I've found for portability and convenience.
With easily adjustable wire feed speed and voltage output, this is a good choice for beginners interested in welding steel in a basic way.
"This is very powerful for the compact size." Says a reviewer on Amazon. "It makes fairly clean welds. I've built an arbor, a trellis, a fence, a gate, several walls, a grate, support posts, and some brackets and it is still working like new. I did enough welding to go through 6 rolls of wire and a package of tips. This is so lightweight it makes it easy to carry, so I even used it while up on a ladder. Highly recommend."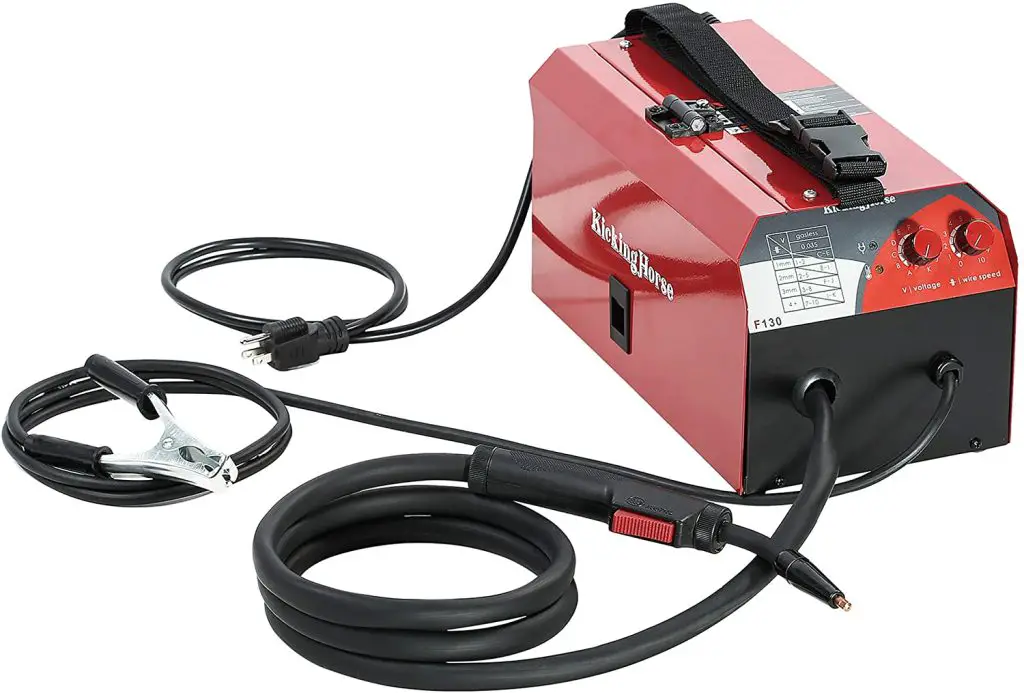 So Which MIG Welder is Best?
That depends on you. Think ahead to what sort of welding you're planning to do, and how often you'll be doing it. Anticipate the thickness of metal you plan to join, then decide if a 120 volt, 240 volt, or dual voltage machine will be the best MIG welder for your needs.
Consider size and portability too. Think about if you're willing to accept the trouble and expense of gas-shielded welding using an external gas cylinder, or if the slightly messier, simpler flux core welding is sufficient.
With all these factors in mind, make an informed decision about which MIG welder suits you best. Got a question about buying or using a MIG welder? Send me an email at [email protected]