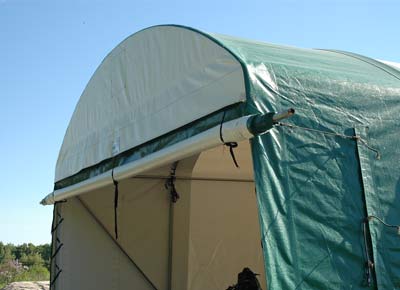 A shortage of covered storage space is a perennial problem for many people with a little bit of land, and that's what prompted me to buy a fabric shelter three years ago. After doing a lot of research, I opted to go with a Canadian manufacturer from the east coast called Cover-Tech. The 16-foot x 30-foot portable garage I bought cost about $8/square foot, and it took me about two days working on my own to put it up. I could have paid less for a shelter than I did, but I ended up choosing this brand because their designs included large diameter frame tubes and, most importantly, the heaviest fabric covering I could find – 14 ounce.
Going into my third autumn, I'm happy to say that I've had no technical issues with my shelter, even though I live in a windy place that gets its fair share of snow. The structure works perfectly and nothing has ripped, torn or bent.
I ended up special-ordering two other features that have proven especially valuable now that I've been using my shelter for a few years. I paid a little extra for a system of ratchets for tightening the tarp onto the bottom edges of the frame, instead of the standard system of nylon laces woven through grommets along the bottom of the tarp. The ratchets make for faster assembly, and make it easy to always keep the tarp drum tight. A roll-up door at both ends of the shelter (the one door system is standard), makes it easy to access stuff, without shuffling everything else around to get at it. Quick to put up, economical to buy, and it even looks pretty good with the green and white colour scheme I chose.