Do you feel the urge to fix problems around your home and make improvements? Success eventually comes down to tools, and the better the tools you've got, the more productive and successful you'll be. It's pretty simple, really. Even as a homeowner, productivity matters because few of us have time to waste completing repairs and improvements. We've got the rest of life to live and weekends are always too short. In addition to this, few of us have money to throw away on tools that don't last. Though many homeowners short-change themselves when it comes to tool quality, the need for productivity and durability are the reasons I always recommend a "better-than-basic" approach when choosing power tools, even for most non-professionals. This is also one reason you need to recognize one particular cordless tool advance that's quietly unfolding right now.
Cordless tools with brushless motors are destined to become the only game in town. Increased power, longer run time for a given battery size, and vastly longer motor life are the reasons why smart tool users are driving this technology away from older, brush-style tools. In fact, bench tests of brushless tool motors have shown the best brushless lasts at least 10X as long as brushed models, precisely because there are far fewer moving internal parts.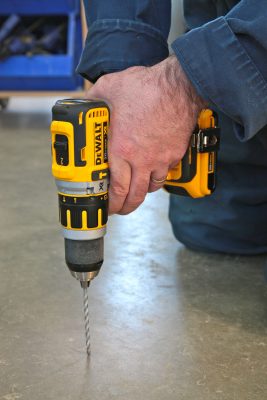 You don't need to understand all the technical differences between brushed and brushless tool motors, just that these differences matter. This is especially true when it comes to choosing that workhorse of home improvement tools, the cordless drill. If you can afford only one power tool, a drill is the one to choose. That's why I'm always testing drills to find the best performance for the money.
At 2 lbs. 12.2 oz (1258 grams), the DEWALT DCD795 hammer drill is exceptionally light in weight for a full-featured model. It accepts the same 20 volt battery system that's been around since 2011, and uses the kind of brushless motors that are vaulting tool performance higher. Looking inside the tool, it's easy to see why brushless is taking off.
A small circuit board replaces the mechanical parts of traditional tool motors. Fewer moving parts means less to go wrong. Typical street price with two batteries and a charger is under $300, and while that's roughly twice as much as low-end brush-style drills, don't be fooled. Remember that brushless motors typically last 10 times longer, so the value is there.
Got a lot of screws to drive? An impact driver makes more sense than a drill for this work. All impact drivers look something like drills, except they're made to accept hex-shaped screwdriver bits, not drill bits. The big advantage is that impact drivers work faster than a drill and they don't slip an spin in screw heads nearly as much as a drill. That's why impact drivers are taking over the building and renovation scene.
At just over 2 pounds on my test scale, the DEWALT DCF886 is the lightest impact driver I've ever tested in the 18- to 20 volt class. Shorter is also better when it comes to impact drivers because it makes the tool easier to wield, and at a 5 1/2" long, the DCF886 is tied for the shortest model I've seen. The triple LED headlight system delivers a lot of illumination whenever you pull the trigger, and the lights stay on for an average of 19 1/2 seconds in my tests after the trigger is released. That's plenty. The kit I tested comes with two batteries and a charger at a street price of $250.
These days the old saying "penny wise and pound foolish" applies to many homeowners investing in tools. And while the temptation may be there to buy cheap "because I don't need anything better", trust me, even weekend warriors need more than today's cheapest models. It's the best, most productive and least expensive option in the long run.