Everyone I know likes warm feet when it's cold outside, and that's the attraction of radiant in-floor heating. You can't beat it for even, efficient distribution of warmth in any building, but there's a problem. Too few homeowners understand that radiant systems can be installed in wood-framed floors, too. You don't need to pour a brand new, pipe-embedded concrete slab to enjoy warm floors and happy feet. While this standard option is an excellent and widely applied choice, it's not the only one. In fact, radiant in-floor heating is possible in almost every type of renovation and new construction project. This is what you'll learn about here.
The first thing to understand is that there are two types of in-floor systems. The most common uses pipes to carry warm water through the floor structure. This is called a hydronic system and it turns the entire floor of your home into one big heating radiator.
Another completely different option includes thermostatically controlled, high-resistance electric heating grids or mats embedded in floors. Think of it like an electric blanket installed under your feet. Both systems have strengths and weaknesses that you need to know about before you can make an informed decision.
The Electric In-Floor Option
When it comes to making your floors warm, electric mat systems are certainly the most mechanically simple option. The heating grid itself can be installed under ceramic tiles, laminates and engineered wood products. Put it down correctly and the installation adds only 1/8" to overall floor height. The best systems are even simple enough to be installed by do-it-yourselfers. Add a wall-mounted thermostat, then take off your socks in February and smile.
So why would anyone choose hydronic in-floor heating when electrics are so simple? Operational cost is one reason. Depending on market conditions, electricity can be the most expensive form of home energy going. It's also completely dependent on grid-supplied electricity. Where even a small portable generator is big enough to power an oil or propane-fired boiler in case of emergency, not so with an all-electric system. That said, electric floor-warming systems really shine for single room applications and renovations. They're outstanding as part of a solution for the widespread misery of all those cold, garage-top bedrooms found in modern subdivisions across Canada, too.
Hydronics in Wood-Framed Floors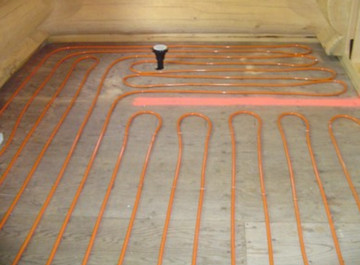 Hydronic in-floor heating systems make the most sense in applications that involve large areas of your house. That's because pipes in the floor are only part of the equation. You also need to consider an appliance to heat the liquid flowing through those pipes, and a control panel to regulate the flow thermostatically. And while none of this makes sense for just a bathroom or den, it's quite practical for a large portion of your home. This is where hydronics shine.
There are three ways to install a network of in-floor hydronic heating pipes in a wood-framed floor. You can fasten them to the underside of the subfloor from below. Easy, yes, but heat transfer upwards to the floor surface isn't terrific. You can also embed hydronic pipes within self-leveling concrete poured directly on top of a wood floor. Thermal performance is excellent, but the work is troublesome, messy, expensive and reduces ceiling height more than any other approach.
An excellent compromise between these two options involves setting heating pipes within grooves created in the top of the floor. You can do this by laying down 10" or 12"-wide strips of 3/4" plywood, with a 3/4" gap between neighbouring strips to create a pipe groove. Set reflective foil insulation in the gap to direct heat upwards, then lay pipes in the grooves and install a finished floor on top. Some manufacturers offer molded plastic grid systems for use in place of the plywood strips.
Radiant in-floor heating is fast-becoming a must-have home feature. That's because it boosts home wintertime comfort levels more than anything else. The good news is that even those of us who don't live on a slab of concrete can now enjoy the warmth.
Understand Your Heating Costs
You won't spend long researching radiant floor-warming systems before you discover tall statements like 'costs just pennies to operate' or 'heat your bathroom for less than 10 cents a day'. As good as radiant heating systems are, they're not magic. They don't have the ability to transcend the laws of thermodynamics, so beware.
The fact is, all floor-warming systems simply deliver heat. They don't make energy. Ultimately, the cost of heating your home is dependent on two things: the rate at which your home loses heat, and the cost of the energy delivered to your house and the efficiency of that delivery process. While it's true that having a warm floor makes you feel more comfortable at somewhat lower room temperatures, don't expect massive cost savings as a result of any in-floor heating investment.