Gluing things so they stay together in potentially wet, outdoor conditions is entirely different than working with interior projects that never see moisture, UV rays or wide temperature swings. If you want outdoor projects to endure, you need more than ordinary glue, and while the adhesives available for exterior applications are getting better quickly, you've still got to understand where each technology works best and why.   Wood is the most commonly glued exterior material, and you've got four main choices to make it stick: cross linking PVA glue (so-called "weatherproof" type I and type II carpenter's glues), polyurethane glues, epoxies and construction adhesives.
1) Cross-linking PVA Glue
Of these options, cross-linking PVA is the cheapest and easiest to use. It looks just like regular wood glue, and even cleans up with water before it dries. After hardening, however, cross-linking PVA is more or less moisture-proof because of the transformation of the polymers that occur while drying. Cross-linking PVA won't hold up indefinitely in submerged situations, but it will keep things together during extended damp weather that would turn ordinary white, yellow or brown carpenter's glues to mush in a few days. Weatherproof PVA glues are rated by the American National Standards Institute (ANSI), and glues meeting their "type II" rating offer acceptable performance outdoors. Type I PVA stays hard more reliably after extended exposure to water. If a PVA glue doesn't have either of these ratings printed on the bottle, or the word "weatherproof" isn't mentioned, it's probably not for use outdoors.
Pros:
Inexpensive
Non-toxic
Easy clean up when wet
Cons:
Goes gummy in bottle after 12 to 24 months
Requires temps above 10ºC while drying for full joint strength
Uses:
Outdoor furniture and wooden architectural details
Indoor woodwork that could be exposed to water accidentally
2) Polyurethane Adhesives
Polyurethane glue is also waterproof enough to use in all applications above the waterline, also including situations where one or both surfaces are made of plastic or metal. Unlike PVAs that are best for porous materials, polyurethane glue hardens by chemical reaction with moisture. No air necessary. It's also easily sandable and takes solvent-based stains reasonably well. On the downside, polyurethane is considerably more expensive than PVA (a 2 ounce bottle of poly costs as much as an 8 ounce bottle of PVA), and it's messier. You need to remove stray glue with acetone when it's wet (water won't work) and polyurethane expands as it cures, sometimes leaving behind large berms of hardened squeeze out. Polyurethane glue also hardens in the bottle after 6 to 18 months.
Pros:
Strong
Bonds non-porous and porous materials
Needs no air to cure
Cons:
Expensive
Requires small amounts of moisture to cure
Potentially messy
Hardens in bottle
Uses:
Outdoor woodworking projects, especially those bonding wood with metal or plastic
3) Epoxy Glue
Epoxy is more than just fast-hardening goop in tiny tubes. Industrial-grade epoxies come in various liquid formulations, some for use in unusually cold or wet situations. Some marine-grade versions are rated for continuous exposure below the water line and will even harden under water. Downside: relatively high cost, and messy working regime. Two liquids are mixed together, then left to sit undisturbed for a few minutes before the adhesive is spread on parts and clamped up. The long open time of some slow-cure epoxies allow parts to be positioned and clamped for up to 12 hours after mixing.
Pros:
Some formulations are rated for use below water line
Forms very strong bond
Cures in a wide variety of conditions
Bonds porous and non-porous materials
Cons:
Expensive – 12 ounces costs about $30
Difficult clean up
Requires mixing of two parts
Uses:
Marine applications
Gluing jobs in cold and wet conditions
4) Construction Adhesive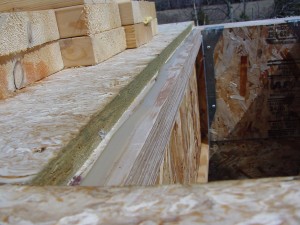 Construction adhesives have done more than anything else to make modern houses solid and squeak-free, but they need to be used properly to perform to their potential. When securing subfloors, for instance, you've got to screw down each sheet while the glue is still soft, not after flopping down all the sheets that cover the floor (however more efficient this might be). Also, when conditions are wet on building sites, polyurethane construction adhesives work best. Since the chemistry behind these formulations requires small amounts of water to harden, damp joists and plywood are no problem at all. Round up a cordless caulking gun to save your hand muscles and speed application.
Pros:
Thick, non-running consistency for vertical and horizontal applications
Packaged in caulking tubes for rapid application with cordless caulking gun
Cons:
Product stiffens up during cold weather
Some formulations harden in tubes or damaged by freezing
Uses:
Subfloor reinforcement
Application of rigid foam insulation
General construction applications
Sidebar: Non-Glue Glue
Although it's not sold as an adhesive, polyurethane caulking is one of the best glues you can use to secure non-porous materials in exterior applications. It's even better than construction adhesives for gluing plastics and sheet metal parts because it's more squishy, allowing a closer bond between neighbouring components. Polyurethane caulking is particularly good for joining seams in aluminum fascia. It eliminates the need for most face nails, creating a cleaner appearance with less chance of buckling and waviness from heat expansion.