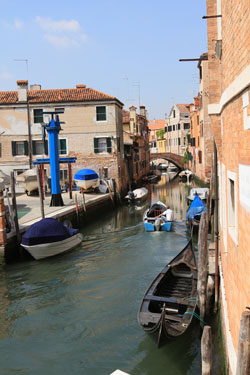 Say the phrase "house construction" in Canada, and you're talking about new buildings, renovations and wood. But it's easy to forget that other parts of the world have entirely different building styles. Fascinatingly different. Venice, Italy is a case in point. I know because I traveled to the city of canals in May, looking specifically for ways people live in and manage homes differently there. What I discovered was not only interesting, but it also offers lessons for us Canadian homeowners, too.
Venice has two things Canada does not. Every square inch of the place is already covered with buildings, and most of what's there went up hundreds or even more than a thousand years ago. As you'd expect with a history like this, Venice is a place of brick and stone, and most of it is crumbling way beyond what you see here in Canada.
The really striking thing about Venice is the size of the restoration job that's looming, and how little of it seems to be happening. Most buildings are made with ancient, sandy-red coloured brick that wasn't fired quite hot enough. That's why it's not unusual to see entire buildings where half the brick thickness has been washed away by centuries' worth of rain. Bricks that were on the cool side of the wood fired kiln show up with much deeper areas of washing away than bricks right nearby.
Venice is also a city of towers, and about half of the ones I saw have a visible lean to them. The brick tower just outside the most famous cathedral in Venice – San Marco – collapsed without warning on July 14, 1902. The rebuilt version in its place now has got a noticeable lean to it as well. I guess that's what you get when you build a masonry city on a bunch of marshy islands. So why build in a place that's just 18 inches above high tide?
As barbarian marauders made their living burning and pillaging the cities of Italy in the 4th century, refugees fled to the 100+ marshy islands around the delta of the Po River, where it empties into the Adriatic Sea. Fear and danger is why Venice is located in such a watery and unlikely place, but the results certainly do have their advantages.
Venice is a strikingly beautiful place, despite the exterior deterioration, with lots to teach Canadians about beauty and commitment to craftsmanship. The extent to which the Venetian people embody craftsmanship and are willing to pay for it is humbling. It's also highly attractive, and real estate prices show it.
A friend I made in the city lives in an ordinary 1400 square foot home with her two kids and architect husband. The only reason they can live in Venice at all is because the house – currently valued at about $1.3 million dollars – was a gift from her father. Nothing's cheap in Venice.
Another thing about Venice is that it's impossible for renovation and restoration work to ever happen as efficiently as it does here in Canada. Footpaths and canals are the only ways to get around, and they've developed organically over the centuries, not along any sort of logical grid. That's why I regularly saw drywall and cement and plaster being schlepped by hand, a few pieces at a time, on a trolley or wheelbarrow, while deaking around tourists like me.
The main thing I take away from Venice is a renewed sense that craftsmanship matters, even when it's not easy. The reason the city population swells by 500% each tourist season is because people from around the world are starved for a taste of a place that's built on more than just efficiency and superficial style. That, I think, is the greatest lesson we Canadians can learn from the beautiful impracticality of the Venetian home scene.