The first part of the 1980s left me feeling desperate. That's what happened when, after several years of methodical searching, I was giving up hope of ever finding the kind of rural place I wanted to live in. I'd grown up in the suburbs of Canada's largest city and thought it would be easy to find a nice rural area with the right kind of surroundings. It wasn't. Have you ever thought you'd like to live in an authentically rural place? Have you taken this idea seriously enough to start looking. If you have, I've got some experiences to share and a suggestion to make. It took me four years to discover what I'm happy I found.
Back when I was still looking for a rural place to call home, my idea of a great spot is the same as it is now.  A blend of farmland, forest, clean lakes and complete freedom from the financial influence of a city were my requirements, but years of searching left me feeling very far from the bullseye. Most areas were too expensive. Other areas were too close to cities so weren't really rural in culture at all. Other places had too much farming and not enough forest and clean water. Still other places had too little agriculture or none at all. In the end I found a place that has proven to be all I'd hope and more. I've been here for 36 years now and I'm telling you about my experiences for two reasons. First, I'd like to offer you the kind of help I never had. I can offer you insights on making a rural life for yourself that would be difficult or impossible to get any other way. And second, the rural place I have in mind has a lot of potential for more energetic, visionary self-starters with business ideas to put into practice. In fact, we could use a few more of the right kind of people here.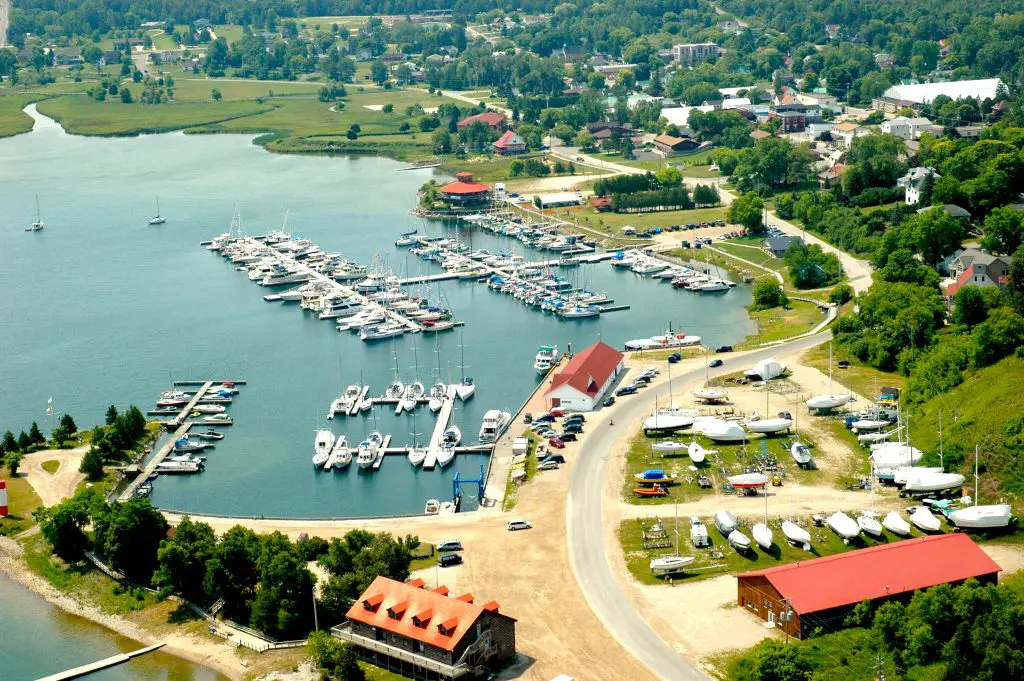 Why Manitoulin is Easy to Like
Manitoulin Island, Ontario, Canada is the rural place where my wife and I chose to build a life and raise a family, and the more time goes on the more precious I realize this place is. It's nestled along the north shore of Lake Huron in Ontario, Canada and is one of the most geographically diverse rural spots you'll find anywhere. It's a place of forest, farmland, clean inland lakes and ocean-like shore along the Lake Huron coastline. More than one person has described Manitoulin as "forever on the fringe", and for folks who've had enough of life at the centre of the urban universe, this authentically-rural place is a God-send. Although residents here consider themselves northerners, the landscape and climate is more like southern Ontario. Even though Manitoulin borders the granite rocks and white pines of the Canadian Shield, it's a limestone island, forested with a mix of cedar, poplar, spruce, hard maple, red oak and beech. Cultivated and wild apples grow easily here, offering worm-free autumn harvests without spray.
Manitoulin's century-old agricultural heritage does a lot to lend a character of settlement to the land. Three-generation family beef farms are common enough to be ordinary. Several small, full-service towns show what rural life can be like when the nearest Walmart is three hours drive away. Where else but in Gore Bay, Manitoulin's seat of government and the town where we usually shop, could you find a community of 900 people that boasts two pharmacies, a new car dealership, a modern grocery store, the district courthouse, an elementary school, nursing home, doctor/dentist's clinic, a modern ambulance base, a complete library, summer theatre, a hair salon, curling and skating rinks, a golf course, and the head office of Manitoulin Transport, one of the ten largest highway carriers in North America. A vibrant commercial fishery also means that stores everywhere sell fresh-caught and smoked local fish. The wild salmon that run up Island rivers in October make you think you're looking at a west coast salmon river.
Why People Move to Manitoulin
I have nothing to gain by bringing Manitoulin Island to your attention as a place to build a satisfying rural or small town life for yourself. I'd just like to help any serious seekers out there, and, like I said, we could use more ambitious visionaries willing to make use of the unique advantages here. Does this describe you? I know western Manitoulin best because that's the end I live on. In a nutshell, these are the reasons people enjoy living here:
Quiet, authentically rural community.
Less regulations and red tape than many other places.
Clean lakes everywhere
Friendly people
Abundant wildlife
Good business opportunities
NOTE: One of the truly unique features of western Manitoulin and Gore Bay (the largest town on the west end) is the way we're blessed with a very generous local family who wants to see Gore Bay thrive. They regularly support the business scene with subsidized rents on commercial spaces and to foot the bill for some community projects.
Video Tour of Gore Bay
Watch the video below for a tour of Gore Bay. My son and I created this video back in 2015 to celebrate the 125th anniversary of the town.
Life on "Deer Island"
There's probably a greater diversity of wildlife on Manitoulin now than before agricultural settlement happened because the landscape is now more diverse than it ever was naturally. Natural forests and now flanked by farm fields in a way that favours all kinds of animals that never lived here originally. White-tailed deer are a classic case in point. When settlers first moved to Manitoulin in the 19th century there were no deer here, just a small population of woodland caribou. Now there are probably as many deer living here as people. And in Gore Bay, the deer are exceptionally tame. I've seen a herd of deer walking down the main street in town in the middle of the day more than once. The video below shows a group of very comfortable deer coming for a visit to a house in town. One of the deer is almost standing on the front porch. These are not tame animals or someone's pets, but wild animals that have no fear of people.
Manitoulin Island Facts at a Glance:
First European Farming Settlement: 1830's
Population: about 12,000 year-round (more or less constant over the last 100 years); 40,000 during summer
Size: 135 km (83 miles) long x 46 km (28 miles) at widest
Nearest Urban Centres:  Sudbury 225 km (140 miles); Toronto 600 km (373 miles).
How to Get to Manitoulin: Single-lane swing bridge at Little Current (it's a designated heritage structure built in 1913 plus seasonal ferry from Tobermory to South Baymouth
Climate: A little cooler than southern Ontario, but not much. Typical frost free period from early May to late October.
Garden Zone: Officially 4B to 5A. Walnut, apple and chestnut trees grow fine.
Corn heat units: 2400 to 2500
Annual precipitation: 80 cm (about 30″)
Geology: northern extent of Niagara Peninsula; limestone bedrock pokes through soil in some areas
Health Services: hospitals in Mindemoya and Little Current; doctor's clinics in Little Current and Gore Bay.
Ice Caves of the South Shore
Lake Huron (one of the five Great Lakes shared by Canada and the US) is the water on the south shore of Manitoulin and this water is big enough that it feels just like an ocean. In the summer Lake Huron gets warm enough for swimming, and in the winter it forms some interesting ice caves and mountains. March is usually the peak for things like this. Watch the video below and explore one of the many ice caves that develops in certain years. This video was shot on March 1, 2015.
Manitoulin Claims to Fame:
largest freshwater island in the world
Manitoulin contains over 100 inland lakes
east end is home to Canada's only unceded Native reserve
highest population of white-tail deer in Ontario
two local airports
Last Word:
Manitoulin Island is ideal for the right kind of people. If you like complete freedom from cultural whiff of any big city;  if you want a unique combination of authentic small towns, agricultural communities and clean, fish-filled lakes, this place may be for you. If you've also got the ambition, skill and energy to start and run a small business or farm, all the better.
Got questions? Email me at [email protected] and I'll do my best to answer. Consider me your personal, unofficial Manitoulin ambassador.