UPDATED 28Feb2020: If you've always wanted to build your self reliance skills and create your own off-grid solar & wind energy system, then you can save a lot of money this weekend because of a guy named Cary R.
Back in August 2019, I got an email from Cary. He was putting together a discounted collection of online courses about hands-on living, self reliance, permaculture, disaster preparedness, homesteading, living off the grid, etc. and planned to offer the entire collection at a large discount. Quite a few of my subscribers took advantage of this discount back in the summer, and Cary has decided to run his offer again, but only until next Monday, March 2, 2020.
"Do you want to include a course of your own this collection?", Cary asked me. I saw an advantage for you as a subscriber to my website, so I said yes. That's what this article here is all about.
Cary had discovered my course OFF-GRID PREPPER POWER, and that's the course he invited me to include it in his lineup.  It covers everything  anyone needs to know design, build and manage their own off-grid solar and wind power system.
Cary calls his collection  "THE OFF-THE-GRID SUPER STACK". It includes 20 ebooks, ecourses and one membership community that normally sells for $1174.61 if bought individually from each course creator. Cary's selling the whole collection this week for $49 USD.  My course on off-grid solar alone sells for $159 USD, so it's a genuinely good deal. Cary's discount Super Stack runs to March 2, 2020. After that, he's shutting things down. Click here to check it out. 
OFF-GRID POWER in the Super Stack Collection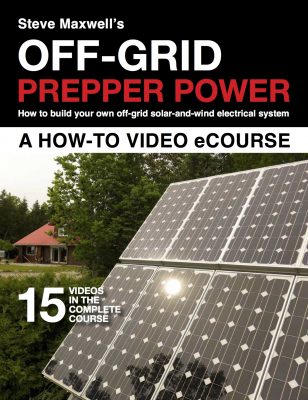 As I mentioned before, OFF-GRID PREPPER POWER is one of two courses I have in Cary's collection. Even if it was the only one you were interested in, you can save money with Cary's deal. OFF-GRID PREPPER POWER is a highly detailed, easy to understand video-based course that covers everything you need to know to design, build and operate a complete off-grid solar-and-wind electrical system for your home or vacation property. I created this course myself, hundreds of people have taken it and they love it. Everyone who signs up for the course gets the course file itself, plus one-on-one coaching from me by email. If there are any questions you need answers for, I'm standing by ready to help.
As I mentioned, Cary is selling his entire Super Stack for $49 USD until next Monday March 2, 2020, including my own energy course.  If this whole thing wasn't an exceptionally good deal I wouldn't be telling you about it. Even if you only find a few of the courses in his collection worthwhile, you'll be ahead financially.
The instructions, plans, schematic diagrams and videos that are part of my OFF-GRID PREPPER POWER course will leave you knowing how to: 
Build an entire off-grid energy system from scratch. Nothing will be a mystery.
Create a wind & solar system that works exceptionally well together.
Use voltage, amperage & other electrical concepts as you design your own system.
Determine how much off-grid energy you need for your household.
Manage batteries for decades-long working life.
Strip wires, solder them, use electrical tools and complete electrical connections.
Some of the other great courses included in Cary's OFF THE GRID SUPER STACK collection are: 
Building a Cob Style Rocket Mass Heater by Paul Wheaton
Wild Abundances Hide Tanning eBook by Natalie Bogwalker
The Prepper's Workbook: 12 Lessons to Help You Get Prepped Where You Are Right Now by Daisy Luther
The Art of Urban Survival by Stefan Verstappen
How to Make & Customize Your Own Natural Soaps by Heidi Villegas
High Performance Gardening eBook by Lynn Gillespie
The Official Introduction to Permaculture Design by Alan Enzo
Canning Foundations Course by Jennifer Gomes
Prepper Gardening by Patrice Lewis
Food Storage Master Class by Charisse Merrill
The Useful Knots Book by Sam Fury
Simple Way to Knit Socks by Maryna Shevchenko
Survivalist Prepper Academy – 1 year membership
Going Off the Grid: The how-to book of simple living & happiness by Gary Collins
Wilderness Survival Course by Joel van der Loon
Family Survival Guide by Mykel Hawke
Click here to check out the entire Super Stack collection. To be honest, not all of the courses are of interest to me (and you), but others will probably interest you. Just to make sure, I've included a second course of mine in the SUPER STACK.
BONUS COURSE: FEED YOURSELF FOR A YEAR is in the Super Stack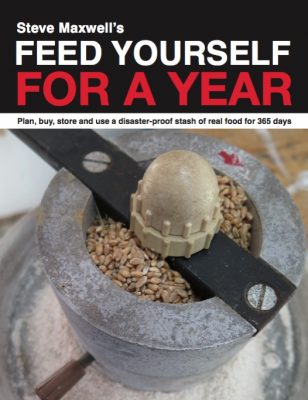 I probably won't be making more than a few pennies as part of this program since I only get a percentage of each sale. I agreed to be part of it mostly because I thought you'd appreciate the discount.
As I mentioned, you probably won't find all the courses in the collection of interest to you. That's why I'm  including a second course as part of my share of the package. In addition to OFF-GRID PREPPER POWER, you'll also get a brand new premium course of mine called FEED YOURSELF FOR A YEAR. I just finished it this past week. I'll start selling it after the SUPER STACK week is over, but for now you can get it as part of the package.
What does this course cover? FEED YOURSELF FOR A YEAR explains everything you need to know to plan, buy, store and use a years worth of real food for 365 days. You and your family will be well-fed and healthy during times of trouble when grocery stores might not be open nor stocked. I haven't seen anything out there that compares with the detail and recommendations of this course. After studying FEED YOURSELF FOR A YEAR you'll know how to:
Design, test & stockpile emergency food based on a four-day trial
Prepare wheat and other "simple staples" to keep you fed & happy
Grow a "survival garden" that will keep you fed while regular gardeners falter
Raise your own grass-fed beef simply, using a pasture-based system
Build a traditional smokehouse following plans and instructional videos
Create your own electricity-free solar food dryer for preserving fruits, veggies & meats – plans and instructions included
Build and use two kinds of root cellars – plans & instructions included.
If the OFF THE GRID SUPER STACK sounds like something you'd like to get, check it out now. As I mentioned before, Cary is shutting the event down at midnight, Monday March 2, 2020. I'd keep it going longer if it were up to me, but it's not my call to make. You decide whether this particular deal makes sense to you.