Cordless electric yard tools that  perform as well as the best gas-powered models is something that's never happened before, but that's changed. This new reality applies to both homeowners and professional landscapers, and it's something I didn't think was possible.
"Gas performance, guaranteed." That's the slogan on DEWALT's professional line of 40 volt landscaping tools that include a string trimmer, a hedge trimmer and a leaf blower. There have certainly been cordless tools of this type before, but I've only ever seen one that was practical for residential use, and none at all strong enough for professional landscapers.  DEWALT has set out to change all this, and after using these new tools I say they've succeeded.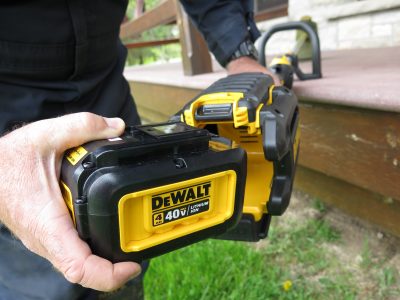 I've used gas-powered string trimmers, brush cutters and hedge clippers each week during the growing season since 1988. I love my gas tools for lots of reasons, but I have to admit that storing mixed gas and keeping it fresh are a hassle. Then there's the noise, vibration and fumes of gas-powered yard tools. All this is why manufacturers have been trying to bring electric versions to market for decades. I say "trying" because I can't honestly say many of the models from the past could compete with gas for the power and practicality needed by professionals or homeowners with large lawns. Sure, electric yard tools have always been quieter and easier to get along with than their gas cousins, but what's the point if they slow you down too much?
The supremacy of gas yard power has been challenged in a big way this spring, and the same revolution with lithium ion batteries and brushless motors in power tools is making it happen.
So what about that tall slogan: "Gas performance guaranteed." Is it true?
Yes. The slogan caught my eye back in January 2015, when I was at a tool show where the DEWALT 40V line was being unveiled. The claim was big, especially since I know how good the best gas-powered stuff can be.
I live in the country and we have a big lawn. After one of my boys cuts the grass with a riding mower, it still takes me 90 minutes to trim around our trees, buildings, gardens and lane way using a string trimmer. And so I do admit to some bias in favour of gas.
Cordless Performance Testing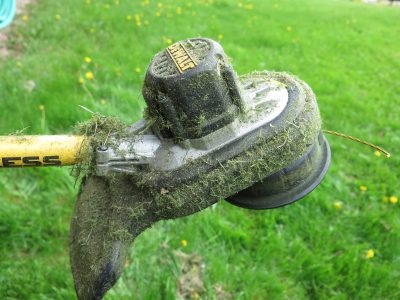 The DEWALT 40V string trimmer is the first tool I grabbed from the new trio, and it competes well with the smaller gas trimmers we've got in our tool shed. Run time on one battery was about 30 minutes of fairly hard use at high speed, trimming from one tree to the next more or less constantly. Performance-wise, this tool is every bit as strong as gas models of a similar physical size I own. The DEWALT can't compete with my big 50cc gas-powered brush cutter on power, but that wouldn't be a fair comparison even for a gas-powered string trimmer. The performance of the 40V DEWALT is identical to the typical 25cc gas model.
One nice thing my boys like about cordless tools is that you can just grab the cordless and go. There's no engine to start and sputter while it's warming up, and less noise. One of my guys in particular, Joseph, loves the 40V leaf blower precisely for this reason. He uses it most often to clean leaves and grass from the shot put and discus pads we have at our place before throwing. The DEWALT works just as well as any moderately-size gas model.
The Bottom Line
Although the DWALT 40V line is aimed at professionals, the $349 price for each of the tools in the lineup makes it reasonable for anyone with a good-size lawn or garden. I can't comment on long-term reliability yet, but you won't be disappointed with performance. DEWALT also offers a 20V line at $249 each for smaller yards and homeowner use. I'll be testing these later and will let you know how they compare.
Now's the time of year when the wonderful smell of fresh-cut grass is wafting around neighbourhoods everywhere. And somehow I don't think anyone will complain if it all happens without the noise of gas engines, either.