Everyone Needs Home Energy Security
The Power Up Giveaway is Here!. Our partners at Champion Generators know a thing or two about energy security and how important it is whether you live in the farthest reaches of the north or the warmest southern climates. That's why this year we're bringing you the best generator giveaway from BaileyLineRoad & Champion ever!
You'll have multiple chances to win one of two amazing generator prizes. Whether you're looking to make sure you can keep warm during the coldest of cold snaps or just looking to have a backup in case of a weather or infrastructure emergency, Champion Generators are feature rich but easy to operate and can be easily installed for quick, reliable backup power to your home, workshop, or cabin. Don't be left in the cold, enter to win today!
Each Winner will choose from their choice of a Champion inverter or open frame generator. Because of local restrictions prizes will be determined based on your locality.
TWO AWESOME GENERATOR PRIZES: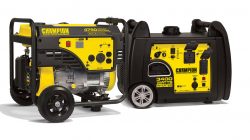 US Winners can choose from:
3100/3400W inverter generator #100233

3800/4750 open frame generator #100103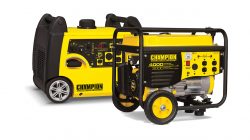 Canadian Winners can choose from
3100/3400W inverter generator #100269

3000/4000W open frame generator #100105
Power Up North America Giveaway

Contest Rules – Rules for POWER UP NORTH AMERICAN GIVEAWAY from Steve Maxwell(also known as Sponsor, interchangeably with third party prize sponsors. )
I. Entries
II. Prizes
III. Restrictions
I. Entries
a. Entries will take place at baileylineroad.com or with any widget as such officially recognized by baileylineroad.com on social media. Entries will be accepted from November 1 through March 31, 2018 at 11:59PM EST.
b. Eligibility i. Any resident of Canada*or the US who has reached the age of majority, or minors over 13 with parental consent in jurisdictions where legal. Please consult your local laws for details. Prizes will not be awarded if contestants are determined to be geographically ineligible after the fact. Quebec and Rhode Island are excluded due to state/provincial law.
c. Rights in Submission i. By entering, each entrant gives permission to the sponsor to contact them with regards to their entry. In addition, entrants who sign up for the Steve Maxwell Newsletter will receive updates from Steve Maxwell and Bailey Line Road.
II. Prizes a. There are several prizes to be awarded in this contest. Each winner will also be entitled to select a qualifying tool library or tool charity to receive a bonus prize. Prize packages consist of:
US Winners can choose from:
2800/3100W inverter generator #75531i

3800/4750 open frame generator #100103
Canadian Winners can choose from:
3100/3400W inverter generator #100269

3800/4750 open frame generator #100460
b. Prizes will be awarded by a random drawing of entries. IV. All restrictions as listed at https://baileylineroad.com/contest/contest-general-rules/ will be treated as in-force unless otherwise stated in this document.
a. Residents of Quebec (PQ) and Rhode Island are ineligible for this contest due to local regulations pertaining to prize giveaways.Consult your local laws for eligibility restrictions.
b. Multiple entries are allowed and encouraged. Many entry offers may be completed daily.
c. Employees of Champion Generators, Sponsor or his designee, including employees of media agencies and outlets where this promotion is published are ineligible to enter the contest.
Thanks for entering! Good luck and bye for now!