No matter how thrilled or bored you are by the prospect of maintaining your home, you'll  need at least a few tools to complete basic repairs and upgrades. That's why most people keep a screwdriver, hammer and tape measure somewhere in the house. But what many homeowners don't understand is how much more pleasant maintenance becomes with good tools. I'm not necessarily talking about expensive, pro-grade stuff, either. The ten specific tools you'll find here actually do what they're supposed to do, making a world of difference to your home ownership experience.
Toolbox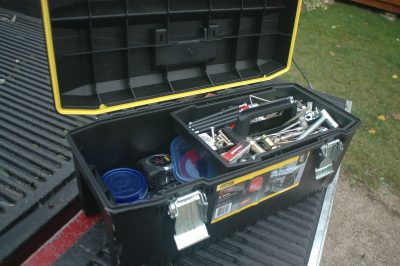 Organization is important, even if you only have ten tools. That's why you need a toolbox. I like the Stanley FatMax 28″ Structural Foam water resistant toolbox because it's got metal latches, lots of room and a rubber seal around the lid to keep things dry. This box is also strong and long enough to accommodate a 24" level – another must-have home improvement tool. I have half a dozen of these boxes in my own shop.
18-volt Cordless Drill
If you can only afford one power tool, this is the type to get. There are many good brands out there. Ryobi offers particularly good value for a low price. Regardless of the brand you choose, keep your eye out for three specific features as you select a drill kit. A model with two lithium-ion batteries let's you work continuously while the second battery is charging. You'll also appreciate a fast charger – one that fully recharges a dead battery in an hour or less. And finally, consider a model with hammer drilling capacity. This allows much faster drilling progress in brick, block and concrete.
Tape Measure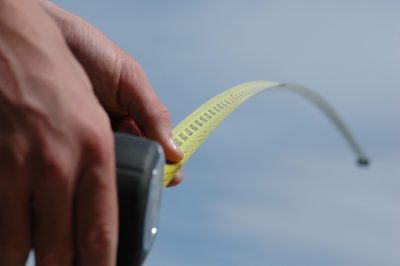 I like Stanley's FatMax line best because their blades are stronger than others I've used, new models are constantly being improved and refined, and the tapes themselves extend out farther than other brands before buckling downwards under their own weight. This is especially helpful when you're measuring large spans without a helper. Stanley tapes with blade armor can easily extend 10 to 13 feet before they collapse down.
Hammer
Nothing fancy needed here. A 16 ounce claw-style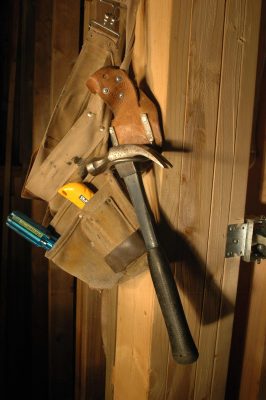 hammer works fine for hanging pictures, driving small nails and assembling things. If you'll be building a deck, dock or backyard shed, a 20- to 24-ounce framing hammer with straight claws works better.
Utility Knife
For years my favourite utility knife was the yellow OLFA HB, and while it's still a great knife, I like the
Milwaukee Fastback better. Speed is the reason why. While the Fastback isn't a switchblade, it acts like one. Push the button, flip your wrist, then the blade swivels out and locks with just one hand. Hit the button again and you can flip the blade back in for storage. This knife is thin enough and short enough to sit comfortably in your pocket, yet strong enough for any kind of building work. It takes standard double-ended utility knife blades and includes a belt clip and feels solid and substantial in your hand. I love this knife.
Drill Bits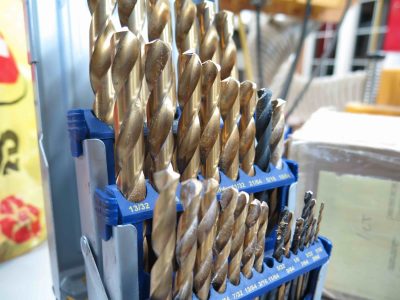 Your drill spins these to make holes, and you need at least two kinds of drill bits: one set for masonry and another set of spiral-shaped twist bits for everything else. Masonry bits come in small sets (four or five sizes from 1/8" to 3/8" diameter), and all brands are pretty good.  Twist bits are another matter. Cheap sets don't last long, so pay a little more upfront. Sets that come in a metal case are especially easy to keep organized. Choose one with bits from 1/16" to 3/8" diameter. Got larger holes to drill in wood? Spade bits are what you need. Irwin makes excellent ones.
Safety Equipment
Pay extra for good safety glasses with adjustable arms and they'll be more comfortable (and more likely to be used) than those cheapies that come free with some power tools. I use yellow foam ear plugs when I'm doing noisy work for more than 15 minutes. Plugs take time to put in, but they're the most comfortable option. For shorter jobs, grab a pair of ear muffs because they slip on and off more quickly.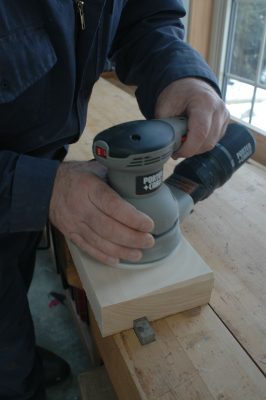 Random Orbit Sander
You'll find a 5" random orbit model sands well and is comfortable to hold. It's small size makes the tool easier to control, too. Any of the major brands offer good units that work well. You'll find 120-grit disks work well for general sanding. Use 80-grit to prepare outdoor wood for finishing.
24" Level
You'll use a level for everything from installing shelves to making sure pictures are aligned correctly. And while it's true that any level can do the job (at least for a while), there are two main features to look for. Metal levels are more durable and accurate than plastic, and the best come with magnets embedded along the edge. This allows the level to hold itself tight to any ferrous metal surface.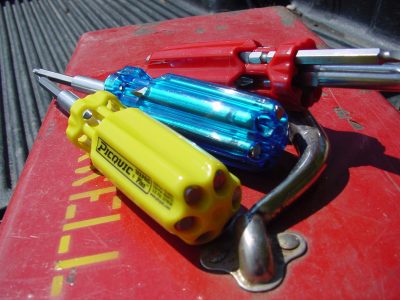 Interchangeable Screwdriver Set
Canadian-made Picquic screwdrivers are the best in my book. They cost less than $15, offer a great system for storing and retrieving the various bits  quickly. The bits are also tough enough for reliable use in a drill. Picquic really is the king of interchangeable screwdrivers.
Good tools make working on your house an efficient operation. You may even come to like tackling jobs you used to consider a chore. And though you'll eventually want more tools than just these ten, at least you'll be off to a good start.