Q: What's the best option for painting my concrete basement floor? It has a few small cracks, but it's in pretty good shape. Is there a product that can be used to fill these gaps before painting?
A: The best basement floor coatings do three things well:
They're tough under foot.
They're thick enough to cover up the texture of concrete.
They look good and last long.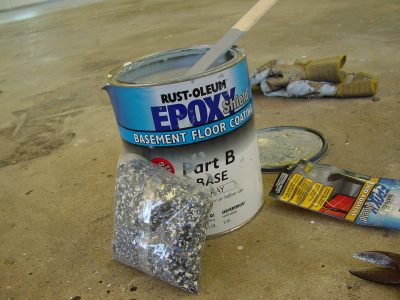 There are many basement floor coating options, but one of the best is offered by a certain type of two-part paint that hardens by chemical reaction. These are generically called epoxy-based floor coatings, but the range of choice can be confusing. That's one brand I've had experience with to the right.  The best epoxies I've seen roll on thick after mixing a catalyst into the paint. They also include small colour flakes that you sprinkle onto the wet surface by hand immediately after application. These flakes make the floor look much better and more uniform by adding visual elements that distract the eye from surface flaws. Epoxy floor coatings also fill and cover hairline cracks. Any gaps wider than these should be filled with paintable polyurethane caulking before epoxy application.
As you do the job, keep the following key details in mind:
Make sure the floor is completely clean and completely dry. Vacuum the floor thoroughly, don't just sweep it.
Mix the catalyst COMPLETELY with the epoxy paint. Pockets of uncatalyzed paint won't harden.
Use a roller to apply the catalyzed paint.
If your paint came with flecks of colour, apply it slowly, keeping an eye on previously sprinkled areas to keep things consistent. Wearing a pair of golf shoes with spikes allows you to walk on wet areas and leave no permanent marks.
Below you'll find a photo of a floor before coating, and the same floor as the coating is going down. Do you want to make your basement more liveable, but don't have the time and money to have it fully finished? Click here to learn about the "semi-finished" option. It's a way to boost the useable floor area in your home without a big expense.