If you aspire to do great woodworking in a home workshop, you need to start with wood that's flat, square and true. The thing is, wood almost never comes this way. The video below shows how to mill wood with a jointer so it's trustworthy and allows accurate work. It's part of my online cabinetmaking course. Hundreds of people have taken this course since I created it in 2018 and it's led to some exception owner-built cabinets all around the world.
Video watch time =5 1/2 minutes
Even expensive lumber is often cupped, warped or twisted in some way and to some extent. That's just the way it is, and it's why precision needs to be imposed on wood before and during the construction of high quality furniture, cabinets, shelves and other projects. And the job of imposing this kind of precision begins with a stationary tool called a jointer.
Click the video window below to watch and learn how to use a jointer to create boards that are easy to work with. Most home woodworkers don't think much about a jointer, but that's a mistake.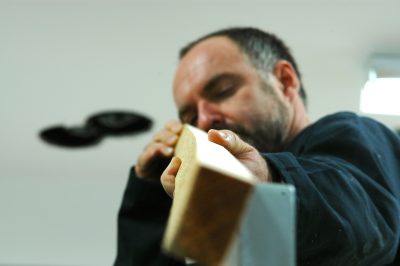 Was this video lesson useful? I certainly hope so. Please consider helping me cover the cost of creating and publishing videos and articles. Click the "buy me a coffee" button below for a fast, simple and safe way to make a contribution. Thank you very much!