Your typical house maintenance routine includes mopping floors, vacuuming carpets, and washing down any surfaces. Sometimes, you may go the extra mile and clean your windows, inside and out. The exterior of houses, though, is often neglected. Over time, it will become caked with dirt and grime, and it may end up looking dull and dingy.
However, if you take the proper steps, your home's exterior can look just as clean and polished as the inside. Inspecting your roof and gutters or checking window and door seals ensures that your home is protected from the elements. Cleaning your siding, washing your windows and doors, or power washing your deck, on the other hand, will give your home that extra sparkle.
Below, you will find some ways to maintain your home's exterior to keep it looking its best. Whether you want to increase its resale value or simply refresh it for your own enjoyment, the following tips should help you accomplish your goal. So, without further ado, let's get to it!
Check Your Windows and Doors
Windows and doors provide an opening to the outside world, so it only makes sense that they would be more susceptible than other parts of your house to moisture, dirt or weather damage. Therefore, you should regularly check them for any cracks in window panes, gaps around door frames, and so on.
While checking windows, you should also make sure that hardware is intact. Handles, hinges, and other moving parts are usually the first to break or become damaged, leaving your windows and doors vulnerable to moisture, pests, or thieves. You should also check the weatherstripping around your windows and doors to make sure it's in good condition. If it's not, replace it immediately, as failing to do so can cause your utility bills to skyrocket by allowing in excessive heat or cold from the outside world. 
Last but not least, make sure to check the condition of the garage door, as burglars often use it to enter the house. If you find some issues there and decide to replace the door, make sure to learn more about garage door sizes. That way, finding a garage door model that suits your needs will get a whole lot easier.
Paint Your Trim and Shutters
If you have a white or light-colored home, then trim around your windows, door trim, and shutters are probably starting to look dingy or faded. Therefore, you should repaint these areas with fresh paint every year or two if they tend to fade quickly. Don't worry about spending the fortune on necessary tools and materials – you can find various coupon codes on websites like heydiscount.co.uk and get everything you need cheaper.
Painting your trim and sutters regularly will help them maintain that shiny new appearance for longer without issues, such as peeling. 
Inspect Your Roof and Gutters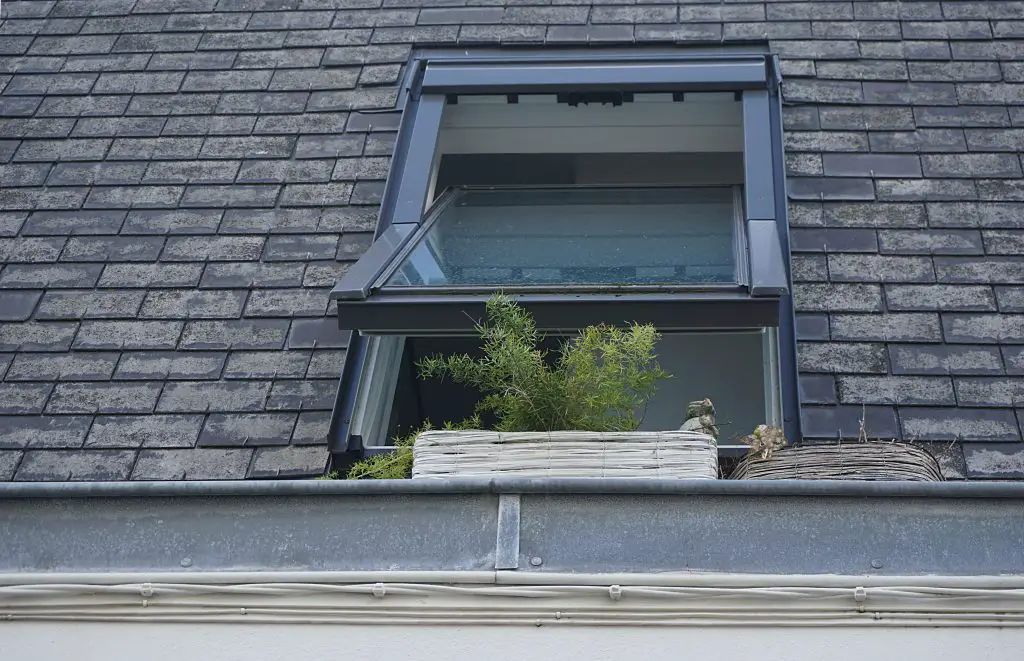 Your home's roof is one of its most vulnerable spots, especially if it's made from asphalt shingles. Winters can be particularly tough on it, as it is constantly bombarded with ice, snow, rain, wind, leaves, and debris. Therefore, every spring, you should thoroughly inspect your entire roof and gutters to make sure everything looks okay before the next winter hits. This allows you to catch any potential problems early so that they do not become even bigger later on. According to one company, Mighty Dog Roofing in Cincinnati, a disciplined approach to the maintenance of the exterior of your home is critical to keep it in top condition.
A few things you should look for include damaged or missing shingles, holes, cracks, or leaks in the roof. Also, you should check your gutters to make sure they are free from any debris and that the water flows through them properly. If not cleaned out regularly, clogged gutters can cause serious water damage. This may lead to mold growth if left unchecked for too long.
Clean Your Siding
Once you have inspected your roof, gutters, and doors, it is time to move on to the siding. If you do not regularly clean your home's exterior siding or if it has not been done in quite a while, then there may be some dirt caked onto the sides of your house. Needless to say, it will not look its best. Therefore, it is important to clean your siding at least once a year to help it last as long as possible (and look as good as it can).
There are a few ways to clean your siding, from pressure washing to hand scrubbing. Whichever method you choose, make sure to use the proper cleanser for your siding material. For example, if you have cedar shake or wooden siding on your home, then avoid using harsh cleaners that contain bleach, as they will strip away its protective coatings and cause it to deteriorate faster than normal.
Power Wash Your Deck
A deck is a great addition to any home. It gives you a place to entertain guests, relax in the sun or shade, cook out with friends and family, and so on. With all that, it is exposed to a lot of wear and tear throughout the year, from dirt to debris. Therefore, it is important that you keep it in good condition by power washing your deck at least once a year. This removes all of the built-up grime and ensure that your deck will look as amazing as possible for at least the next few weeks. Cleaning offers to benefit for a longer deck live, but a clean deck is a better looking deck.
On top of that, you can also add a fresh coat of paint, sealer, or stain to your deck. This will help protect it against the elements and extend its lifespan by years if done properly and on a regular basis. The best deck prep begin with pressure washing, but also includes at least a light sanding before refinishing.
In Conclusion
While no one wants to spend time and money on home maintenance, it's important if you want your house to look its best for as long as possible. By following the tips above, you will be able to keep an eye out for potential problems and catch them before they become huge issues or expensive fixes down the road. Your hard work may also help increase your home's value, which will come in handy in case it comes time to sell it someday.
From power-washing your deck and repainting your trim and shutters to cleaning the siding, you will have a much easier time maintaining your home's exterior than you may think. All it takes is some time and effort to keep things looking their best. So, if you have the tools, the time, and a bit of love for your home to spare, then it is worth making sure that its exterior looks as good as possible!