A table saw is a stationary power tool that's a mainstay of home improvements and renovation work because it makes straight, accurate cuts in lumber, plywood and particleboard. Safer than hand-held circular saws for many operations, traditional table saws hold the spinning blade stationary, while allowing wood to slide across it, guided by an adjustable fence.
Try a table saw once, and you'll probably never want to tackle most home renovations and woodworking projects without one again. Here's the low-down on the three main types of tablesaws:
benchtop table saws (fully portable)
contractor table saws (semi-portable)
cabinet saws (stationary)
Benchtop Table Saws
So-called "benchtop" saws are the smallest, lightest and most portable type of table saw, yet top models are also powerful enough to cut through thick hardwood. The best include a removable, folding stand that makes it virtually effortless to move the tool around.
Expect to pay at least $450 for a decent model. Cheaper benchtop table saws look similar, but low power, poor control operation and breakage-prone parts make them not worth owning. The best portable benchtop saws always include a dust port on the bottom for hooking up a vacuum. In my tests, dust control is effective and makes operation much cleaner and safer. If you do basic home renovations around the house or cottage, a portable benchtop tablesaw will serve you best. Most can fit into the trunk of a car.
My favourite corded benchtop table saw right now is made by Bosch. Besides being a great saw for cutting with a great fence, it's also incapable of hurting you. It's the saw that can't cut meat. Click to watch a safety feature that prevents this saw from cutting any kind of flesh. 
Contractor Table Saws
So-called contractor tablesaws are the oldest of the portable models, and contractor saws are also the heaviest. That's why I consider them "semi-portable". You just don't want to lug them around too often. Always sold with a stand, and often including a cast-iron work surface, contractor saws offer greater stability in exchange for limited portability.
Though powerful, many models can't be hooked up to a dust vac because the bottom portion of the saw is open. A contractor table saw makes the most sense for use in a garage or basement workshop where you'll need to move the tool from time to time. They don't fold, so you'll need a pickup truck for transport. Once upon a time, contractor table saws were the only kind of portable unit on the market. These days benchtop models are better if you plan to move your saw around a lot.
Cabinet Table Saws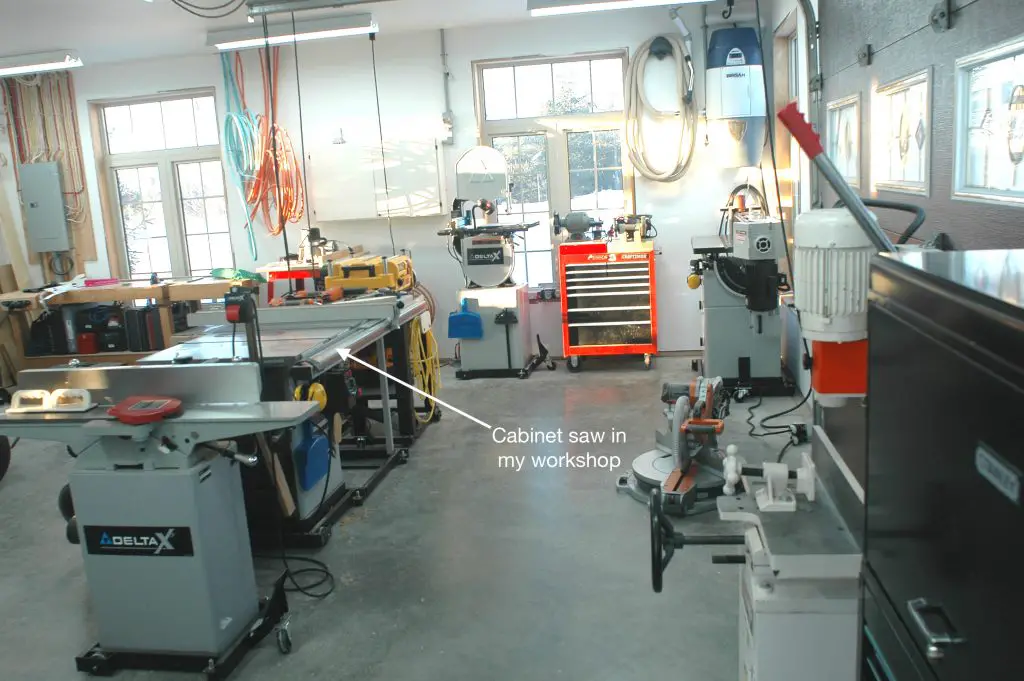 These large, stationary models deliver the most accuracy, but they're also designed to stay in one place. If you're in the market for a cabinet saw you probably already know a fair amount about table saws, Most models weigh about 500 lbs and up, so they're best suited to a permanent garage workshop devoted to serious woodworking. That said, even large cabinet saws can be fitted with wheels that make it possible for one person to roll the tool on smooth surfaces. The Delta "Unisaw" cabinet saw in my own shop is on wheels that can be activated with a foot lever. I don't move it often, but I do sometimes.
Track-Guided Saws
These tools use a special hand-held circular saw that travels on a metal track. This guides the cut across the wood, delivering very accurate results at all angles in plywood, particle board and MDF. One of my favourite uses for a track saw is trimming the bottom ends of doors. The design of the blade and a rubber lip on the edge of the track ensures completely splinter-free results on both sides of the cut. Results are amazing for any other applications, too. I don't think I'd choose a track saw over a table saw if I had to choose one or the other, but a track-guided saw is a wonderful thing when cutting sheet goods away from a workshop. Currently the Festool is my favourite, though all models on the market work really well For a closer look check out my video on how a track-guided saw works.
Table Saw Blade Safety
Regardless of the tablesaw you use, you'll get safest cutting action with a blade that has some variation of the tooth design you see here. Notice the rounded humps of metal behind each tooth in this photo. These are called "anti-kickback pawls" and they make for more predictable cutting action with almost zero chance for kickback.
The do-it-yourself lifestyle holds a lot of potential for improving your home and property at the lowest possible cost. It's also a lot of fun to create things and improve your life with your own hands. Sit down and figure out the cost of good tools compared with the value they deliver and you'll see why DIY makes so much sense these days.