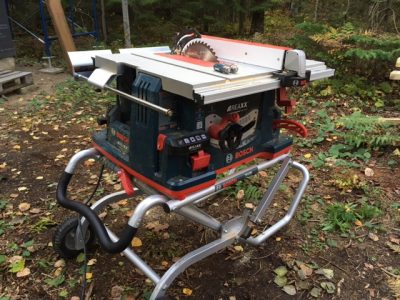 I often get asked for advice about choosing a portable tablesaw, and if I had to choose the best, safest and most widely available model, it would have to be a unit from Bosch. To understand why, you need some background.
Tablesaws are the ideal tool for accurately cutting wood and sheet materials. If you take your building work seriously around the house, cottage or home workshop, a tablesaw will pay for itself many times over. That said, tablesaws also demand more respect than almost any other DIY power tool. I'm reminded of this every time I switch on a tablesaw because of something that happened to my great grandfather, Robert Maxwell.
Robert came to Canada from northern England as a journeyman cabinetmaker in 1902, and two days before retiring from an accident-free career at 70 years old, he cut off two fingers on the tablesaw.  How could that happen to a man who'd safely used a tablesaw five days a week for half a century? One little slip is all it takes. Accidents like these are not uncommon, and it's why technology has been developed to make tablesaws safer. Bosch didn't invent this technology, but they are the first major brand to bring safer tablesaws to market, and what they've done is impressive. It's called the REAXX system and I'm sure my great grandfather would have loved it.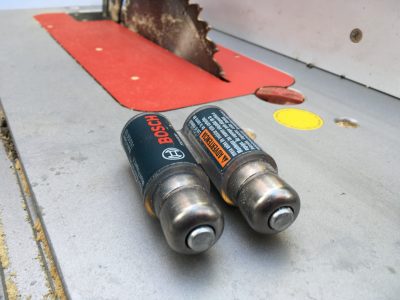 There have been fabulous portable tablesaws on the market for a long time. The Bosch 4100-09 tablesaw with folding stand has been my favourite for years, but the Bosch REAXX GTS1041A-09 improves on this classic design in more ways than one. The fence works better, the saw runs quieter and there's better on-board storage for extra gear. But the real claim to fame is that the REAXX won't hurt you. The instant the spinning blade touches anything electrically conductive like a finger or hand, a cartridge of compressed gas propels the entire spinning blade assembly down below the table surface in milliseconds. If this safety system should ever activate and save you from injury, it only takes about 1 minute to reset and continue cutting.
The REAXX saw uses the same gravity rise folding support stand as the previous model of saw I like so much, including impressive, rubber-rimmed wheels spinning on proper bearings. The saw rolls like a dream, folds and unfolds instantly, and has lots of power. You can cut through 2-inch hardwood no problem.  In many ways the REAXX is an evolutionary advance from the older 4109-09. It's a professional grade tablesaw sporting new technology, but as you'd expect it's priced like one, too.
Typical street price of the REAXX is $2000 CDN or $1500 USD. That sounds like a lot and it is. That's more than twice the cost of the old Bosch 4100-09 without the flesh-detection capabilities. A cheaper price is attractive if you're feeling lucky, but no bargain after you're facing the prospect of a long recovery or permanent disability.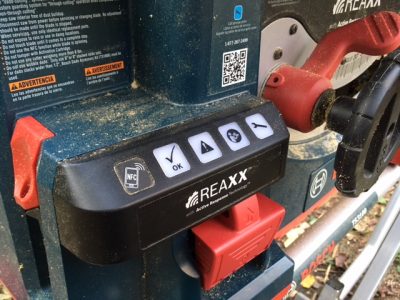 Even with a revolutionary safety system on a tablesaw, it still pays to avoid tempting fate with risky maneuvers. Always use a push stick when cutting wood with the fence closer than 4 inches to the blade. Never use the mitre gauge and rip fence together at the same time. Always wear safety glasses since even the REAXX system can't protect your eyes from flying debris.
One of my sons uses a tablesaw regularly in his own work in and around his house, and I must admit that I felt safer when I knew he was cutting with the REAXX saw. I introduced him to tablesaws as a teenager, and even though I've shown him all the proper ways to use the tool, dads worry, right?
As my great grandfather proved, one small mistake might just make you very thankful you spent more on a saw than you could have. The flesh-detecting system worked perfectly every time I've seen it kick in. Click below to watch a video of the Bosch REAXX saw trying (and failing) to cut a sausage.
Need more information on choosing a table saw? Click here to learn about the main types.