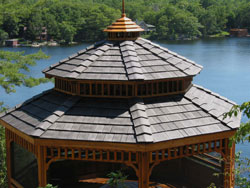 I love the look of cedar shakes and shingles. Trouble is, I've seen too much to ever feel good about installing cedar on a roof. Durability is the reason why. While it's true that cedar shingles deliver at least 50 years of solid performance when used on walls, most of the cedar I've seen installed on roofs is cracked, moss-covered and cupped after just 10 or 15 years. I'm not sure why this is but it's quite disappointing. It's also puzzling, especially considering that somehow cedar shingles have developed a reputation for lasting a long time. Apparently they used to, but not any more.
Perhaps the current reality has to do with the fact that we don't have old-growth cedar trees to mill into shingles any more. Second-growth trees grew more quickly, and as any woodworker can tell you, the composition of young wood is obviously different to the eye and the hand. Maybe these differences also include a chemical component that accounts for the fact that modern cedar isn't what it used to be. I really don't know for sure, but durable or not, the wood-shingle look is still visually impressive on a roof. This is why various modern engineered roofing products have been developed to create the look of real shakes and shingles, while also delivering long-term durability. From what I've seen over the years, I'm impressed.
Of all the engineered shingle products out there, I have the longest experience with Enviroshake. It's a Canadian product made from a blend of reclaimed rubber, recycled plastics and plant fibers, and I began investigating Enviroshake eight years ago. The product is virtually indistinguishable from cedar shakes as viewed from the ground, and includes a traditional-looking, taper-split shake texture. During research for an article on environmentally-sound roofing options that I wrote this past spring, I discovered that composite shingles like Enviroshake are consistently awarded one of the most environmentally-sound ratings of any roofing option because they're made almost entirely from reclaimed materials. This fact, coupled with the typical 50-year warranty for composites, beats wood any day.
A professional colleague of mine had Enviroshake shingles installed on his Toronto home almost ten years ago. He still likes them, and I'm not surprised. They've even weathered to a more grey colour than new, with no visible signs of deterioration so far.