Black iron pipe is widely available and excellent for metalworking and welding projects. In this week's video lesson, see how a tubing notcher makes it easy to shape pipe ends so they meet perfectly when joining to other pipes. This lesson comes from my online course MIG Welding Skills for the Home Workshop.  Hundreds of beginners have learned to weld from this course.
In the 4 minute video here, you'll see:
how a simple, expensive tubing notcher cuts perfect curved profiles on the ends of pipes
watch how a bi-metal hole saw cuts dozens of pipe ends yet stays sharp
learn how cutting oil is an important part of the notching process
see how the shape of end profiles on pipe can be changed to suit the project
Click the video window below to watch and learn a new workshop skill . . .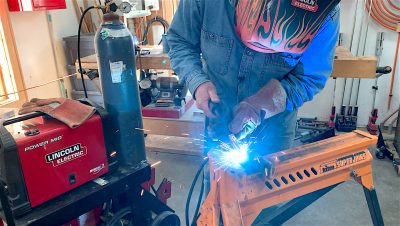 I hope you found this video useful! Please consider helping cover the cost of creating and publishing content like this by "buying me a coffee" at the link below. It's quick and easy, completely safe, and much appreciated.
– Steve Maxwell