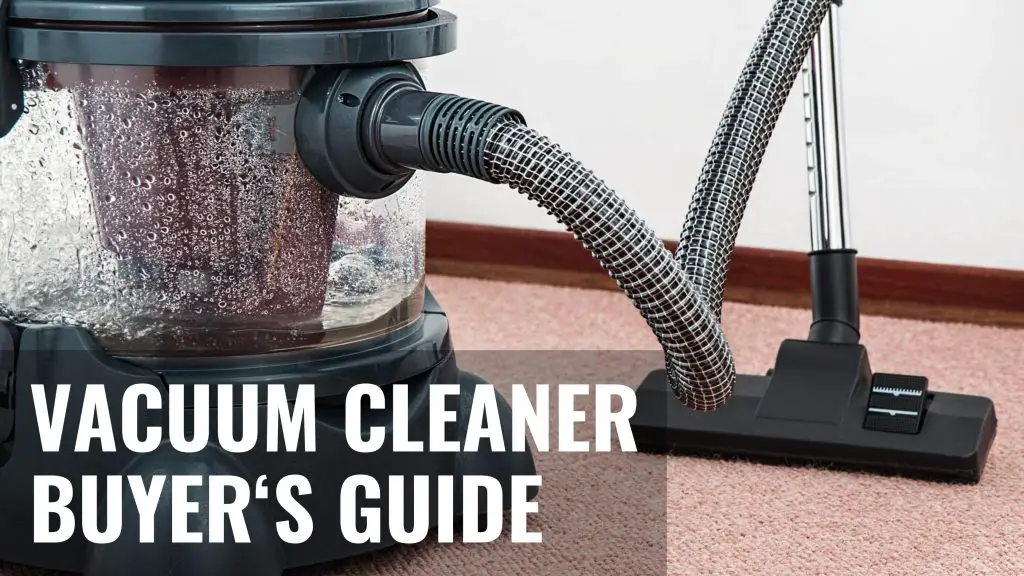 The best vacuum for your lifestyle depends on many factors. These include your floors, the types of messes you regularly clean, whether you suffer from allergies, and your budget. What works for one person could be ineffective or annoying for another.
While there are many vacuum models on the market, the type of vacuum is often the most important consideration. Here's an overview of vacuum types, including the pros and cons of each.
Upright Vacuum Cleaners
Upright vacuums come in a variety of styles, but typically have the motor, dust canister, and floorhead in a single body.
Many people prefer uprights to canister vacs because there's no canister to drag behind as you clean. This provides more freedom and allows you to cover large areas in less time. The best upright canister vacuums also let you maneuver around furniture more easily than canister vacuums.
In general, uprights are less powerful than canister vacuums and have a smaller cleaning radius. The best models still provide plenty of suction though. Most uprights also have a motorized brush bar to stir up dust and dirt, making them more effective on carpets.
Pros:
Make it easy to clean large areas of carpet
Great for bigger homes
Usually come with a powered brush bar
Cons:
Difficult to use on stairs or tight areas
Often noisy
Canister (Cylinder) Vacuum Cleaners
Canister vacuums have a separate floorhead and body, which are connected by a long hose and rigid wand. Unlike upright vacuums, you pull the vacuum body behind you when cleaning.
While upright vacuums are more efficient at vacuuming large areas of carpet, canister vacuums have the upper hand for sheer suction and cleaning power. Canisters also tend to have a larger cleaning radius, due to the extended hose, and bigger dust capacities.
There are a few downsides to cylinder vacuums though. They are less convenient to store, due to the long hose. The strong suction and lack of a turbo brush can also make them difficult to push on carpets.
Pros:
Powerful suction
Large dust capacity
Wide cleaning radius
Cons:
Inconvenient to store
Can be difficult to push on thick carpet
Stick Vacuum Cleaners
Stick vacuums have become increasingly popular in recent years. These models are lightweight, maneuverable, and easy to store, making them a convenient choice.
The main downside is that the small design limits motor size, so stick vacuums are typically less powerful than uprights or canisters. They also have small dust capacities.
Stick vacuums come in both corded and cordless varieties.
Cordless Stick Vacuums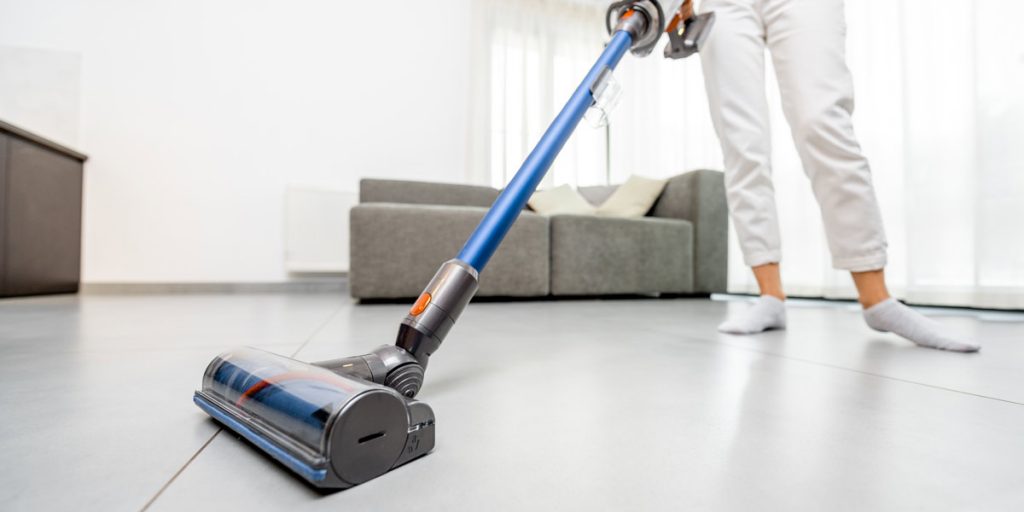 Cordless stick vacs are the most popular type, due to their convenience and freedom from a cord. The best models can cost more than $500, but generate strong suction power and have powered floorheads, so they can rival many corded vacuums.
Many cordless stick vacs can also be turned into a handheld vacuum by detaching the wand. This makes them a versatile choice for cleaning everything from carpeted floors to car interiors.
The main downside to cordless stick vacuums is their limited run-time. While battery life has improved in recent years, even the most expensive models can only last 10-15 minutes when using a powered tool on the highest suction setting. Reducing suction can provide longer run-times though.
There are also many low-quality cordless vacuums on the market. These have terrible suction power and poor cleaning performance, so it's important to do in-depth research before buying.
Corded Stick Vacuums
If you like the idea of a lightweight stick vacuum, but don't want to worry about running out of battery, then a corded stick vac could be a great alternative. These models share many of the same benefits as cordless vacuums – including often having a handheld mode – but without the limited run-time.
Corded stick vacuums don't provide the same suction strength as other types of corded vacuum though. They also have small dust capacities.
Pros:
Lightweight and convenient to use around the home
Can often be turned into a handheld vacuum by detaching the wand
Cordless stick vacs are amongst the most versatile models on the market
Cons:
Small dust container
Cordless models have a short run-time when using full power
Not as powerful as upright or canister vacuums
Handheld Vacuum Cleaners
Handheld vacuums are perfect for spot cleaning. They are small, easy to store, and are usually cordless for extra convenience. If you need a vacuum for quickly cleaning dry spills, keeping pet hair at manageable levels, or vacuuming crumbs after dinner, then a handheld model could be the perfect choice.
These vacuums aren't designed to replace a full-size model though. They often lack suction strength and have tiny dust capacities. Many handheld vacuums also lack a motorized brush bar, making them less effective on carpet or upholstery – although there are some exceptions, including the Dyson V7 Trigger.
Pros:
Handy for small messes
Portable and lightweight
Inexpensive
Cons:
Too small for cleaning large areas of floor
Not a replacement for a regular-sized vacuum
Robot Vacuum Cleaners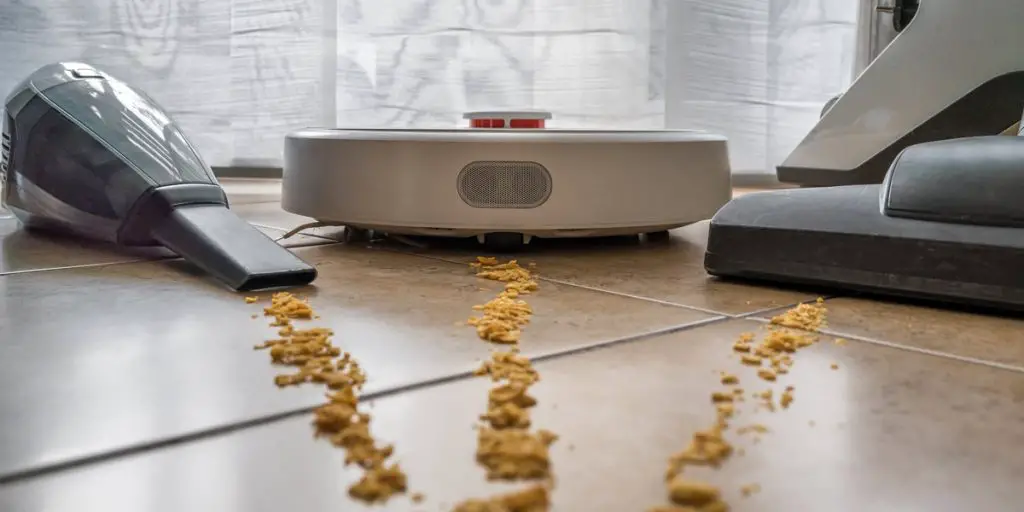 Robot vacuums appeared on the market in 1996 and have gradually gained popularity. They're still one of the more expensive vacuuming options, but the price has dropped steadily over time.
When they work correctly, robot vacuums can be a great solution for keeping your floors clean. The best models have decent suction, can be scheduled via a mobile phone app, and have advanced algorithms to map out a room. Many automatically return to their "home" base for charging, so they are a truly hands-off solution.
There are some big drawbacks though. Robot vacuums can't navigate stairs, so they can only clean one level of a house. They are also pricey and lack the strength to deep clean carpets.
For cleaning most dirt, hair, and dust from floors, however, it's hard to beat the convenience of a robot vac.
Pros:
Great for hard floors and regular removal of pet hair and crumbs
Most have scheduling modes and automatic recharging
Modern robot vacs are much more effective than the first models
Cons:
Not a replacement for a regular vacuum cleaner
Expensive

 

Can only clean one floor of a house
Wet/Dry (Shop) Vacuum Cleaners
Wet and dry vacuum cleaners, often known as shop or garage vacuums, are corded vacuums for cleaning up more difficult debris, such as sawdust or workshop materials. They can also handle liquid spills, although you may need to change the filter when swapping between dry and wet modes. 
This type of vacuum is much more durable than regular vacuums and have stronger suction power. Everything is sucked into a large, bucket-style container to be dumped and rinsed afterward. Some more advanced models also have power take off (PTO) for power tools, which is great for keeping your workshop clean.
While these vacuums are probably not necessary for most homes, they are the perfect choice for workshops, liquid spills, or anyone who needs extra suction power. They also tend to be long-lasting and inexpensive.
Pros:
Perfect for garage and workshop use
Able to suck up rough debris and liquid spills
Relatively inexpensive

 
Cons:
Lack the convenience features of regular vacuums
The powerful motor and suction are extremely loud
Often bulky and heavy
Summary
The right vacuum for your home depends on your requirements. It's important think about how you'll be using the vacuum before buying, otherwise you could make an expensive mistake.
Here's a quick summary:
For large homes with lots of carpeted floors, an upright vacuum is often the best choice.
Canister vacuums are often better for hard floors, although the models with a powered floorhead can still be excellent on carpets.
If you need convenience, then it's hard to beat a cordless stick vacuum.
For liquid spills or workshop debris, a wet and dry vacuum (or shop vac) is really the only option.