UPDATED + videos below 8May2020
Q: I bought plans to build a workbench and the instructions mentions making the top from quartersawn lumber to guard against warping and cupping. I don't know what quartersawing is. I plan to use 2x6s for the top, but how do I quartersaw them?
A: Strictly speaking, quartersawn lumber isn't a product of anything you can do to lumber you've already bought. It's a way of sawing boards from a log that orients growth rings perpendicular to the face of the board. This is sometimes also called "vertical grain" lumber. You'll find that different boards in a pile are closer than others to the quartersawn lumber ideal, and by careful selection you can choose these for use in crucial areas like bench tops. This is true of any pile of lumber, even the kind of construction-grade 2x6s you mention.
Actually, you'd be better off buying wider boards (like 2x12s) and sawing them in half lengthwise rather than buying 2x6s. These days every log that enters large sawmills is assessed and cutting is done to maximize lumber yield. The largest and best trees are reserved for making the widest boards. That's why two 2x6s cut out of a 2×12 are usually better than two 2x6s bought as such.
Quartersawn Lumber: What's So Good About It?
So what's the big deal with quartersawn wood? It expands and contracts less for a given change in moisture than wood with growth rings parallel to the face, and quartersawn wood is much less likely to develop a cup shape than flatsawn lumber. You'll find that wider boards, such as 2x10s and 2x12s, almost always have quartersawn sections along their outer edges because they're generally cut from the middle of the log. Narrower boards may or may not have this feature.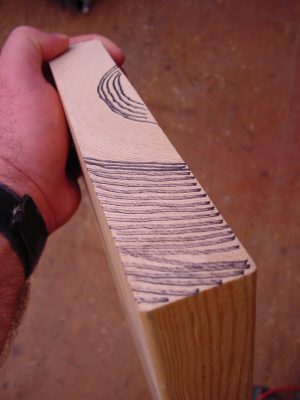 If you're building a bench top you've got a couple of options. If it's a rough bench made with 2x6s, then there's no need to worry about growth ring orientation and quartersawn wood. Any collection of 2x6s will work fine. If you're making a more refined bench, as I mentioned earlier, you can cut narrower strips of wood from wider boards, rotate the strips as necessary to get the grain pattern correct, then glue them together on their edges. The image above shows a section of board with vertical grain orientation.
As it turns out, there's a whole world of great, inexpensive wood that's suitable for fine woodworking. It's available for in the form of wide planks of framing lumber destined for floor joists and house frames. Sounds too good to be true, but it's actually a great opportunity. Click here for an in-depth article on choosing and using construction-grade cheap lumber for building fine furniture. There are also free building plans at this link for making a bunk bend and dresser set from this material.
To learn more about quartersawn wood, click to watch the video below. It's part of a video course I offer on building a custom-made table.