If you'd like to carry extra long loads in your pickup truck, you might want to know about something called Big Bed. It's a folding metal pickup truck extension that plugs into any standard 2-inch trailer hitch receiver, and I know from using mine for more than 10 years that this thing is great.
Reading time = 4 minutes
Video watch time = 3 1/2 minutes
Wings unfold and lock, creating a 49-inch wide support arm that sits about two feet back from the edge of the open tailgate. With the Big Bed in place it's possible to safely carry loads twice as long as the 8-foot bed of a standard pick-up truck, supporting up to 400 lbs. of weight as it does. What could be better than that? You can see my Big Bed in action on my trusty 1990 F150 below, hauling a bunch of 16-foot 6x6s.
The Men Behind Big Bed
Mike Segeren, Don Segeren and Jason Hawkins are the three country boys who invented Big Bed in the early 2000s, and their story reads like a textbook lesson in tenacity and hard work. All three are married, between them they have kids, farms, off-farm work, contracting projects and all the other responsibilities of active, productive guys who live by entrepreneurial wits alone. I talked to these guys back when I first got Big Bed, and they're an impressive trio.
Truck Extension Time Line
Back in 2006, Jason welded up a crude, T-shaped metal support to help transport long lumber for building projects, later refining the design into a folding version that always got lots of attention wherever he went. That positive experience prompted the three lifelong friends to bring the product to market under the company name Seg-Ins Inc. (a word combination of their last names). After the sorts of trials that kill many new businesses – money shortages, world-wide economic depression, dashed hopes for several promising distribution options, the sudden death of their first fabrication contractor, a bad batch of paint on their first 100 units and the ever-present shortage of time – the farm boy tenacity of Mike, Don and Jason paid off. In January 2010, Big Bed earned full patent protection. I've lost track of the inventors since then, but the product is still for sale. It's now made by a company called Erickson Manufacturing.
Installing a Receiver Hitch
Although many new trucks have a square receiver hitch at the back, my 1990 Ford F-150 didn't. A receiver is a metal recess just below the rear bumper with a hollow 2-inch by 2-inch square hole made to accept various hitches and attachments, including the Big Bed. Although installing a square hitch receiver looked daunting, the work turned out to be an easy, 30-minute DIY driveway job. As I discovered, receivers are custom-made for various trucks, and simply bolt to the underside of the frame. Clamp the receiver to the frame, then use the factory-drilled bolt holes in the receiver to guide the location of holes you need to drill in the frame. My receiver required 1/2-inch diameter holes which proved fairly easy to bore with a good bit and an 18-volt cordless drill, even through the 1/4-inch thick steel of my truck frame.
The video below shows a trick I discovered for more easily drilling holes in a vehicle frame where the holes go upwards. Not all the holes you'll have to drill for a receiver hitch go in this direction, but if some do you'll want to save your arms and try this method of using a scissor jack to help. It made all the difference for me on one particular project.
After living with the Big Bed for more than a decade, I can say that it's every bit as useful as it looks. It takes less than 60 seconds to slip the end of the unit into the square receiver hitch and unfold the wings. The outfit provides rock-solid support for anything that extends beyond the tailgate, eliminating the need for a trailer or the kind of weights typically used to counterbalance long loads. Removal is just as fast when you're done hauling. The unit folds into a 5-inch wide, 52-inch long, 38 lbs. example of the kind of innovation that can make a big difference.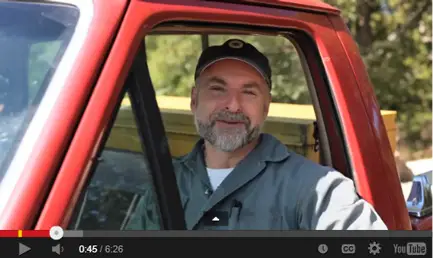 I hope you found this long-term review useful. Please consider helping me cover the cost of producing and publishing content like this. Click the "buy me a coffee" button below and it's fast, safe and easy to make a contribution. Thank you very much to the people helping out.
– Steve Maxwell