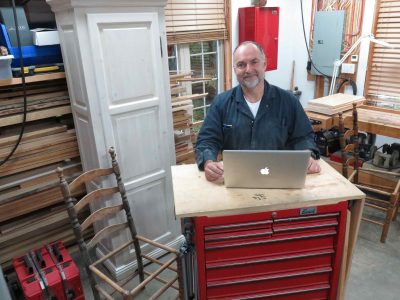 Think of this course like a set of video-enhanced plans for building a piece of furniture.   In this case the "furniture" is custom designed, it's permanently mounted to walls and offers a place to prepare and enjoy food. I'll lead you through a very specific yet flexible approach to building traditional style face frame kitchen cabinets that are heavy on solid wood. I began using and refining my honest kitchen cabinet construction methods in 1987 and I'm still using them today. The thing I like best is the way this approach delivers the good looks of a bygone era without demanding crazy amounts of time or skill. Simple tools, basic abilities, a supply of honest materials and a reasonable amount of time are all that's required. My approach uses real wood in all visually prominent places, including face frames, raised panel doors, end panels, beading and shop-made crown molding. I'll even show you how to add incised carvings and lettering details to customize your kitchen if you really want to go all out.  Veneered plywood is also part of my approach, but used only in hidden places where it makes the most practical sense, as you'll see.
A Note on Videos and Photos
It's taken me decades to perfect the techniques you'll learn here, and I've been making videos and photos to document the process since 2001. None of what you'll see in this course are staged studio visuals. It's all real stuff gathered in my workshop using the best cameras available at the time.  That's why I'm younger in some videos and photos, older in others. Some of the visuals come from my own kitchen cabinets in cases where these show some technical issue best. Please excuse the bit of wear they show from having been in use for more than 25 years.
Thank you for trusting me to show you how to build the kind of kitchen cabinets that a quality-minded woodworker can be proud of.
– Steve Maxwell
Manitoulin Island, Canada
What You'll Learn
How to Design Your Kitchen Cabinets
Cutting and Assembling Cabinet Box Parts & Shelves
How to Assess & Optimize Wood Grain
How to Choose & Rough-Cut Face Frame Stock
Refining Face Frame Members
Making End Panels & Door Panels
Installing Stiles, Rails, End Panels & Kick Base
Building & Installing Drawers
Building & Installing Doors
Carvings & Crown Moulding
Sanding & Completing Face Frames
Choosing Your Countertop
Finishing Your Cabinets
Cabinet Installation
In This Section...
Well-made kitchen cabinets are beautiful and impressive, but success with the approach I'll show you here requires only intermediate skills.
Continue Reading
While it's true that every kitchen  cabinet layout needs to be different, the basics of how parts fit together following my design is all the same.
Continue Reading