Hoop House Basics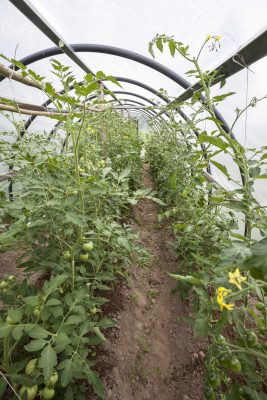 Hoop houses deliver benefits throughout your growing season, and not just the obvious advantages of protection from frost. Decreased wind pressure on seedlings, more humid growing conditions and higher internal concentrations of CO2 for heat-loving plants during the main part of the season are also reasons why hoop houses deliver better food and more of it. For northern preppers, hoop houses also bring the reality of spring planting and nurturing closer to the time when your post-winter enthusiasm naturally kicks in. Just one hoop house is like moving your garden hundreds of miles closer to the equator.
A hoop house offers a pleasant space to work, sit and recharge yourself, too. Hoop houses even deliver benefits in hot climates by providing variable amounts of protection when used with roll up sides and shade cloth.
Before you begin, get specific about what you want to accomplish. Are you looking for a small space for nurturing seedlings?   Do you envision a hoop house you can walk into? Do you plan to make roll up sides to control excess heat? All of these features can be incorporated into the build-it-yourself design here.
Watch the video up next for a tour of the hoop house plans and design.
VIDEO: Hoop House Plans Tour
Building Your Survival Hoop House
Flat, level, well-drained conditions are required for any hoop house, but shelter is also worth considering. Even moderate winds exert a lot of force on a hoop house, so choose a location that gains shelter from tree cover or other buildings, if you can get it. Also, since excess heat within the hoop house during summer will be an issue even in northern regions, orient your hoop house so the ends are aligned with prevailing breezes for maximum ventilation.  A location with deep, stone-free soil makes anchoring the structure easier.
PVC pipes arched over a wooden ground frame, then covered in polyethylene plastic. This is the survival hoop house recipe in a nutshell, and it works for structures up to 18 feet wide. You can also make hoop houses smaller, too. See "Hoop House Guidelines" coming up later in the course for recommended pipe diameters and hoop pipe lengths.
We use 1 1/2-inch diameter, schedule 40 PVC pipe for the hoops, and 2-inch diameter PVC for the ground pipes on this design. Study all the instructions and plans until you fully understand construction steps before buying materials.
Hoop House Materials List
Part Material Size Quantity
Ground frame sides – rot-resistant lumber – 2x6x12' – 6 pieces
Ground frame ends – rot-resistant lumber – 2x6x12' – 2 pieces
Long hoop pipes – schedule 40 PVC 1 1/2" dia. x 20' – 11 pieces
Short hoop pipes – schedule 40 PVC 1 1/2" dia. x 10' – 11 pieces
Ground pipes – schedule 40 PVC 2" dia. x 36" – 22 pieces
Ground pipe bolts – corrosion-resistant metal – 1/4" dia. x 5"-long – 88 pieces
Short purlins – schedule 40 PVC – 1 1/2" x 20' – 3 pieces
Long purlins – schedule 40 PVC – 1 1/2" x 10' – 3 pieces
Top plastic – greenhouse grade – 6mil x 32' wide x 35' long – 1 piece
End wall framing – construction-grade lumber – 2×4 – as needed
End wall plastic – greenhouse grade 6mil x 32" wide x 10' long– 2 pieces
Here's a short list of suppliers for hoop house kits and hardware. You can buy more or fewer of the things  you need at these outlets. The best place to buy electrical conduit is at a local hardware store or building center:
Greenhouse Megastore: https://www.greenhousemegastore.com
– Structures, plastic, fans, etc
+++++++++++++
Lostcreek Greenhouse Systems: http://www.hoopbenders.net
– Steel hoop bending tools and plastic
++++++++++++
Growers Supply: https://www.growerssupply.com/farm/supplies/home
– Hoop house kits, plastic, tape, etc.
Step#1: Build the Ground Frame
Regardless of the size of your hoop house, begin by creating a four-sided ground frame from rot-resistant lumber. Pressure-treated 2x6s placed on their edge work well for houses from 14- to 18-feet wide.
If the sides of the frame you need are longer than the lumber you've got (quite possible), use 24"-long battens to splice the joints. Hot-dipped galvanized #10 x 3-inch wood screws work best here, with #10 x 4-inch screws used to secure corner joints.
Set your frame in place, then measure and equalize diagonal measurements taken from corner to corner. As long as opposite sides of the frame are equal in length, corners will be exactly 90º when diagonal measurements are the same. Drive temporary wooden stakes into the earth on the outside corners of the ground frame to prevent it from moving out of square.
Watch the video up next for tips on building the ground frame of your hoop house.
VIDEO: Hoop House Ground Frame
Step#2: Drive Ground Pipes
Ground pipes are vertical lengths of 36-inch-long PVC pounded vertically into the ground with a sledge hammer. Drive one ground pipe at each corner of the wooden frame, and another every three feet along the long sides, all tight to the inside face of the ground frame members. Each pair of ground pipes supports one hoop pipe. As you work, have someone hold a piece of scrap wood on top of the pipe as you're pounding them in, to avoid breaking the PVC.  Drive the pipes so they're flush with the top edge of the ground frame boards or an inch above.  For an extra heavy-duty installation, make the ground pipes from galvanized steel pipe.
TECH TIP: Hoop House Floor
Depending on how you use your hoop house, the floor surface may be more important than you think. Foot traffic is the reason why. If you'll be using your hoop house for seedling flats and pots, the soil is quite likely to turn into a trampled, dusty and muddy mess as you walk in an out for watering, weeding and transplanting. Any kind of pathways you create should be made of light, organic material that doesn't permanently damage the soil. Clean straw is an excellent pathway option, but it's not available everywhere. If you live in a forested region, as I do, sawdust, planer shavings or shredded tree bark is a perfect choice for  hoop house pathways and floors.